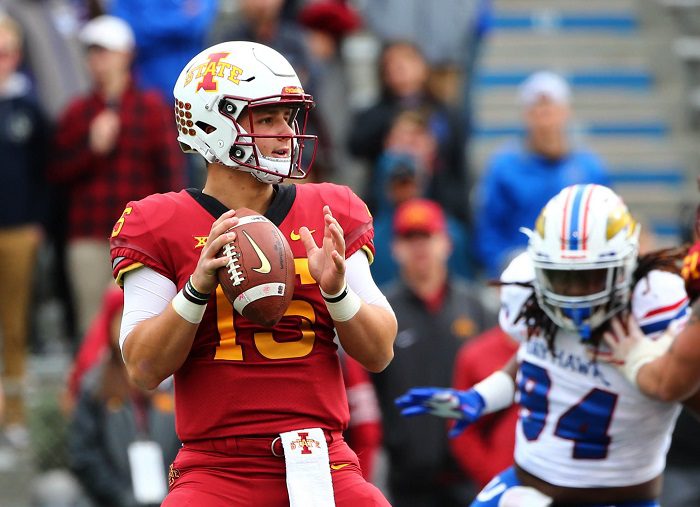 As we get closer to kicking off the 2019 college football season, teams from around the country, but more specifically in the Big 12, are dreaming as to how they can either meet expectations (Texas, Oklahoma), exceed them (Baylor, Iowa State) or absolutely shock the world (Kansas State, Texas Tech). But July is the time for every program and every fan to dream of hoisting that conference championship on the first Saturday in early December.
So let's look at the Big 12 conference and expand on how every team can have that magical season. Let's get to the Iowa State Cyclones.
Editor's note: Below are the previous teams we've discussed.
Baylor Bears
Kansas Jayhawks
Kansas State Wildcats
Oklahoma Sooners
Oklahoma State Cowboys
TCU Horned Frogs
Texas Longhorns
Texas Tech Red Raiders
West Virginia Mountaineers
How can the Iowa State Cyclones win the Big 12 Conference in 2019?
For Matt Campbell and the Cyclones, it starts with new leader(s) stepping up. Quarterback Brock Purdy is the obvious choice with David Montgomery and Hakeem Butler off to the NFL, while defensively, players like Brain Peavy, D'Andre Payne and Willie Harvey also graduated. Purdy stepped in as a true freshman and exceeded even the most die-hard Cyclones' fans wildest expectations, finishing with 2,250 passing yards, 16 touchdowns, seven interceptions and completing 66% of his passes. If Purdy can take that next step as a quarterback and a leader, while also getting the help he needs from his skill position players like Deshaunte Jones, Tarique Milton, Kene Nwangwu, just to name a few, then Iowa State may not miss a beat on offense. Also, don't forget a veteran offensive line with four seniors likely to start. There's not much more Purdy could ask for on that front.
Defensively, Jaquan Bailey was our HCS staff pick to be named the 2019 Big 12 Defensive Player of the Year. Throw in the top defensive mind in the league in Jon Heacock with this returning talent like Bailey, Ray Lima, Marcel Spears and Greg Eisworth, and this team should be thinking about AT&T Stadium in December.
Of course, there's the schedule that needs to be analyzed, so here's how all this can break right for the Cyclones. I've said it before, but I'll say it again, their Big 12 opener against the Baylor Bears in Waco is not just one of the most underrated games in the Big 12 this season, it may be one of the most underrated games in college football. The winner of this game will immediately have a leg up to be the contender that people are looking for to challenge Oklahoma and/or Texas for the Big 12 crown.
The Cyclones need to get off on the right foot with wins over Baylor and TCU. This will separate them immediately from the pack of the "second-tier" teams in the conference. Then it's two-straight road games in Morgantown against West Virginia followed by Texas Tech in Lubbock. This is a very difficult couple of weeks because the Cyclones are traveling to the two most remote places in the Big 12 in back-to-back weeks. Focus during this stretch will be key for Campbell going to two places where there are new head coaches looking for a defining win for their program. If Iowa State is 5-0 or 6-0 heading into either game, they'll likely be ranked in the Top 15 with opposing teams and fan bases smelling blood and extra juiced for an upset.
Iowa State then hosts Oklahoma State, which could be a trap game considering what comes next, which is at Oklahoma and home to Texas. Iowa State must split this two games to have a chance of reaching Arlington and then finish out the season with a sweep of the Sunflower State, hosting Kansas before going to Kansas State, which is Farmageddon, and is always interesting.
Considering this should be a topsy-turvy season for the Big 12, two losses with the right tiebreakers may get Iowa State into the Big 12 title game. So that means either a loss to Oklahoma or Texas and then one trip up in the first few games of the conference schedule. But that's it. Anything more and Iowa State will have to start thinking about the 2020 Big 12 title.
**We now have FREE Big 12 Forums here at Heartland College Sports. Go sign up here and join our conversation! **