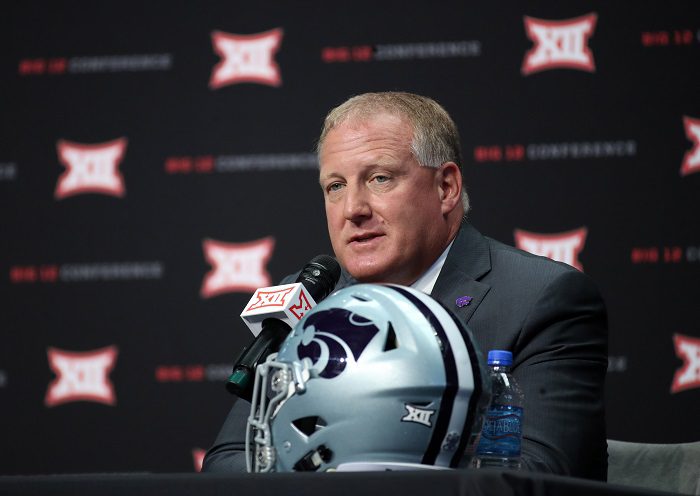 Another disappointing loss for the Kansas State Wildcats on Saturday, losing 32-31 to Baylor on a last-second field goal. This was their fourth loss in a row and fans are quickly losing patience after such a great start to the 2020 season. K-State once again had some key players out against Baylor but had an 11-point lead in the first half and led by nine points with just under nine minutes left in the game.
Baylor quarterback Charlie Brewer played great, but K-State had control for most of the game, and had it not been for some questionable play-calling, should have pulled out the victory. Most K-State fans pointed the finger at offensive coordinator Courtney Messingham. There are three key sequences in the game that were very questionable. Even the ESPN announcers questioned the K-State offense at various times during the game.
1) K-State led 17-6 with two minutes left in the first half and had the ball first and 10 on their own 45-yard line. Messingham called three straight running plays up the middle. K-State failed to get a first down and was forced to punt. It's important to note that they weren't trying to run out the clock and there was no reason to do that due to their field position. ESPN play-by-play announcer Jason Benetti commented, "Odd drive for Kansas State." There was a 30-second timeout and Benetti didn't let up after the commercial break, saying, "Strange call and strange clock management from Chris Klieman and Kansas State." Color commentator Andre Ware followed up by saying, "I thought for sure that once Deuce Vaughn got the first down that they would go a little faster." They were both right to question the play calling. Three straight running plays up the middle and a punt in this situation was a huge letdown. All they needed was 15 yards or so to kick a field goal. Those points would have been the difference between a win and a loss.
2) After Baylor took the second-half kickoff down the field to kick a field goal and cut K-State's lead to 17-9, K-State got the ball back and ran it three times in a row, failed to get a first down, and punted right back to them. Baylor marched down the field for a touchdown to make the score 17-15. A missed two-point conversion allowed K-State to keep the slim lead. This prompted color commentator Andre Ware to say "I think for Kansas State to pull this out they're going to have to have it from the passing game with Will Howard." Ironically, Ware said this just as Will Howard handed the ball off to Deuce Vaughn for s short three-yard gain up the middle.
3) K-State and Baylor exchanged touchdowns and K-State held a 31-29 lead with 4:08 left in the game. They had a first and 10 on their own 14-yard line. The first down play was a two-yard run up the middle by Deuce Vaughn. On 2nd and 8, Messingham called another Deuce Vaughn run up the middle for two yards. On 3rd and 6, Howard threw a one-yard pass to Vaughn out of the backfield that fell incomplete. Even if Vaughn had caught it, he would have been tackled five yards short of the first down. K-State punted to Baylor and they drove down the field for a game-winning field goal.
K-State's offense was not efficient at crucial times in this game. This is a recurring trend since Messingham took the job prior to the 2019 season. The Wildcats offense is currently 9th in the Big 12 in both scoring offense and total offense. You can argue there are many reasons for this. An inexperienced offensive line, a depleted receiving corps and a true freshman quarterback and running back to name a few, but Messingham has a history of putrid offensive production in the Big 12.
Messingham was Iowa State's offensive coordinator from in 2012 and 2013, and was on the offensive staff in prior years. He was fired by Paul Rhoades at the end of the 2013 season after the Iowa State offense finished in the bottom three in the league in points per game, yards per game, yards per play, rushing yards, and passing yards. When Chris Klieman was hired to coach K-State last year, many K-State fans were skeptical of the hire because he had no Division 1 head coaching experience. When Klieman said he was bringing in his offensive coordinator, Courtney Messingham from North Dakota State, to run K-State's offense, I was very skeptical. When I heard of the hire, I did a Google search of "Courtney Messingham fired." One of the links took me to an Iowa State football message board. To say Iowa State fans were giddy that he was gone is a huge understatement. He was as popular in Ames as CNN reporter Jim Acosta is at a Trump rally. Take a look at some comments on Twitter from Iowa State fans after their 45-0 victory against K-State just over a week ago…
"You look at the Iowa State win, and you see the big 0 in their score column. You sit there and think "damn, that's pretty impressive!" And then you realize who their OC is and suddenly it doesn't seem impressive anymore. Thanks for stealing that from us, Courtney Messingham."
"Classic Courtney Messingham game against a ranked opponent at jack trice. #Farmageddon"
"I feel bad for K-State because not only are they losing, they have Courtney Messingham on staff"
"Having little success in Ames is nothing new for Courtney Messingham"
That's just a sampling of the comments. I could go on and on. On a side note, I love Iowa State fans.
My son and I were talking the other day about whether highly-touted four-star quarterback commit Jake Rubley will be able to come in and start right away for K-State next season. He commented, "Well, the offense is easy to learn. All you have to do is start every series at 2nd and 10." While that's a small use of hyperbole and exaggeration, perception is reality. Most K-State fans are not at all impressed with the offensive play-calling or production.
Can Kansas State get the offense turned around with Messingham at the helm? It's safe to say I have my doubts. His seat is getting hotter with every offensive possession.
*If you like what you've read from Joe Mathieu, find more on his personal K-State site: https://www.kstatejoe.com/*