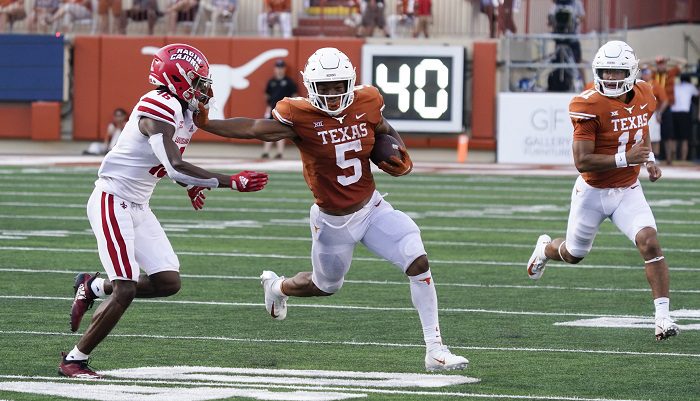 Week 1 of the Big 12 football season saw high and lows, ebbs and flows, and the usual ups and downs and the opening weekend, as teams are seeing their first live bullets in nine months. It's been a wild offseason for the Big 12, to say the least, so we're all glad that games are back. So let's give you three up and three down from this weekend.
Three Up
1. Texas Offense
The Longhorns offense started a new era with Steve Sarkisian at the controls as the head coach and Hudson Card getting the nod at quarterback as a redshirt freshman. In a Top 25 match up against a Louisiana-Lafayette program, which Teas won 38-18, this unit performed quite well. Hudson Card finished a very solid 14/21 for 224 yards and two touchdowns (plus a rushing score), while Jordan Whittington was his favorite target, finishing with seven catches for 113 yards and a touchdown. Heisman contender Bijan Robinson got off to a good start in the backfield with 20 carries for 103 yards and a score (and added 73 receiving yards and a touchdown). Considering the new system and new pieces of the offense, Sarkisian has to be very pleased with how this unit came out of the gates.
2. Kansas State Sticks it to Pac-12
As we wrote about earlier in the day, Kansas State's 24-7 shellacking of Stanford wasn't just your run-of-the-mill non-conference game, it sent a statement. The Wildcats helped the Big 12 send a message to the Pac-12, who just last week announced they would not expand, while indirectly saying they didn't feel any Big 12 teams were "worthy" of being in their conference. Well, it was Wildcat Nation who showed up in droves down in Arlington and watched their Cats on national television roll over what has traditionally been one of the better teams in the league. Kansas State's win was as much for the Big 12 as it was for themselves.
3. Tyler Shough
Ever since Patrick Mahomes left Texas Tech, there's not a quarterback you'd have a lot of confidence in to dig you out of a 14-0 hole. However the Red Raiders now have Oregon transfer Tyler Shough at quarterback, who brought a confidence and swagger that has not existed at that position for Tech in a few seasons. Shough was steady, methodical and brought leadership to a unit that has been in desperate need of it as Tech did come back for a 38-21 win over the Houston Cougars. Shough was 17/24 for 231 yards, one passing touchdown and one rushing touchdown. Oh, and his favorite target just might be the best wide receiver in the Big 12 in Erik Ezukanma, who had seven catches for 179 yards. There is still plenty for Tech to improve on, but they have to feel good about what they have at the most important position on the field.
Honorable Mention: Kansas Jayhawks winning their first football game in 677 days.
Three Down
1.Iowa State's Slow Start
We literally wrote this week about the importance of a strong start for Iowa State. It was anything but in a 16-10 win over FCS Northern Iowa. It's now fair to say there are three guarantees in life: Death, taxes and slow starts for the Cyclones under Matt Campbell. It's really the only thing to critique Campbell for during his time in Ames. Granted, everything was vanilla ahead of next week's big match up against Iowa, however this trend has often lasted beyond Week 1, as the Cyclones have yet to beat the Hawkeyes under Campbell. Also, with Charlie Kolar out, that makes a difference, as he is Brock Purdy's favorite target. But if this team shows in next week against Iowa, it won't be a pretty Saturday.
2. Oklahoma's Second Half
The Sooners had a Jekyll and Hyde kind of day as they trailed Tulane in the first quarter 14-7, then led 37-14 at halftime before the wheels fell off and OU only put three points on the board in the second half and limped to the finish line in a 40-35 win over the Green Wave. It was almost like Lincoln Riley's team bought into too much of the hype. The offense was sporadic at times, struggling up front, while QB Spencer Rattler was inconsistent. And for all the attention we gave Alex Grinch's defense, Tulane made it look too easy at times. OU can undoubtedly right the ship, and there is time to do it, but this was a strange opening performance in Norman.
3. West Virginia's Offense
The box score shows 24 points scored and a quarterback who threw for almost 300 yards, so you might wonder why things went so poorly for WVU. Jarret Doege continues to be limited by his lack of mobility in the pocket, but to be fair, his wide receivers aren't helping him with drops and others miscues that cost the Mountaineers on Saturday in a 30-24 loss to Maryland. West Virginia turned the ball over four times, including a crucial fumble by RB Leddie Brown, who despite his three touchdowns, had one of the biggest mistakes of the day. The Mountaineers only scored three points in the second half as the questions will continue for this unit in Morgantown moving forward.
Honorable Mention: Oklahoma State barely hanging on for a 23-16 win over Missouri State.