featured
Could Wisconsin Entice Lance Leipold Back Home After Season?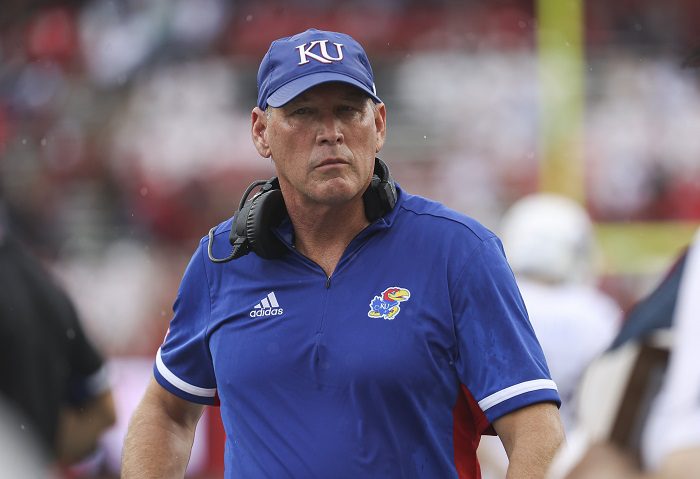 This should be a feel-good week for Kansas football. ESPN Gameday is coming to town for an AP Top 25 matchup with TCU. The Jayhawks could be bowl eligible with a win.
Want some rain? Look to Wisconsin.
The Badgers fired Paul Chryst on Sunday. That gives Badgers athletic director Chris McIntosh plenty of time to do two things. First, to see if interim head coach Jim Leohnard, a Wisconsin guy through and through just like Chryst, is the right guy for the job. Second, it gives him a chance to explore other options.
Those options will probably include Kansas coach Lance Leipold — and not just because the Jayhawks are experiencing this renaissance and the 56-year-old seems to be connected to every opening right now (welcome back to the trappings of football success, Kansas).
Leipold is a Wisconsin guy of sorts. That makes this opening a little more dangerous than the Nebraska opening.
Leipold is born-and-bred Wisconsin. Born in Jefferson, which is tucked between Madison and Milwaukee, he didn't get to play for the Badgers. But he did play for a Wisconsin school — UW-Whitewater, which is Division III. He played quarterback there and spent three of his first four seasons as a coach with the Warhawks before going to Madison for two years as a graduate assistant.
What got him out of Wisconsin? His first full-time gig (graduate assistants don't get paid much). Nebraska-Omaha hired him and he stayed for six seasons before he joined Nebraska for two seasons (2001-03) under then-coach Frank Solich. He went back to Nebraska-Omaha for two seasons to be its assistant head coach and offensive coordinator before he left Nebraska for …
You guess it — Wisconsin. More specifically, the alma mater called.
Leipold returned to UW-Whitewater in 2007 and led the Warhawks to six Division III national championships before leaving for Buffalo in 2015. The move seemed logical for Leipold. He had proven everything he could in Division III, but a Power 5 school wasn't going to hire him to lead its program. Buffalo took a chance, and he converted the Bulls in a solid Mid-American Conference program — 37 wins, two MAC East Division title and three bowl appearances.
Then Kansas called. And, well you know the rest.
This turnaround in Lawrence is incredible. Leipold is at the center of it. The natives are loving it and I'm certain that Kansas athletic director Travis Goff is doing everything possible behind the scenes to ensure that Leipold is as un-poachable as possible.
But, some things can trump success. Getting the call home might do it. It's not the alma mater, of course. Leipold has already done that. Now, it's the potential for the flagship school of his home state that could pull out all the stops to try and lure him up north.
The good news is that Barry Alvarez — Leipold's boss while he was at Wisconsin — is no longer the athletic director. The bad news is that all McIntosh has to do is pick up the phone and call Alvarez to call Leipold's people. They'll pick up. Alvarez is persuasive and one of the game's most respected voices, even in retirement.
The real question, of course, is what Leipold wants? If we've learned anything from the constant rumors about Iowa State's Matt Campbell is that we tend to under-estimate what the coach wants. For years he's talked about the support at ISU and the affection he has for the program and the people. And now he's the second-longest tenured coach in the Big 12.
What does Leipold want? Right now, I assume he wants a win on Saturday. After that? Well, that's TBD. But, logically, Wisconsin should be interested in him. He'll just have to figure out if he's interested in them — when, and if, the time comes.
You can find Matthew Postins on Twitter @PostinsPostcard