Basketball
Postscripts: Big 12 in Mexico, Pac-12 Conflicting TV News, and Re-Branding Big 12?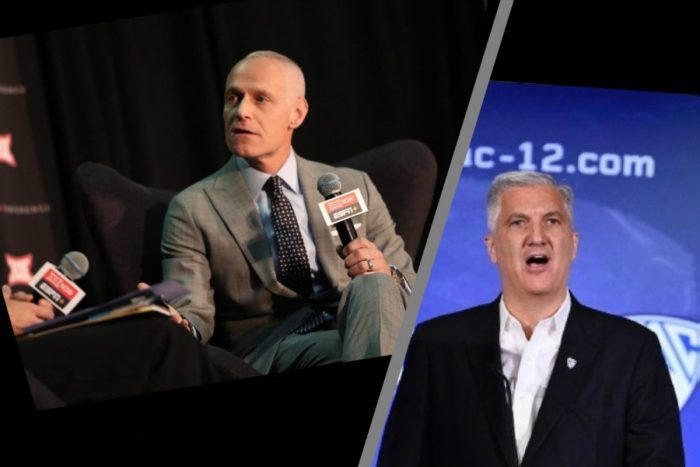 What's going on in the Big 12 and beyond? I expand and explain every Sunday in Postscripts at Heartland College Sports, your home for independent Big 12 coverage.
This week, the Big 12 is headed for Mexico, why were there conflicting Pac-12 ESPN reports and can you get the Big 12 a better name?
Big 12 in Mexico
The Big 12's announcement that the league would play football and basketball games in Mexico starting in 2024 was definitely an interesting one.
Now, college football has played abroad before. Notre Dame, among others, has played a few games in Dublin. On the heels of this announcement, a college football fan on Twitter reminded everyone about the Coca-Cola Classic, an annual game in Tokyo from 1977-93.  The 1988 game featured Oklahoma State against Texas Tech.
I don't think the goal here is to get 50,000 Big 12 fans to go to Mexico City or Monterrey for a college football game. I think it's the opposite — to get 50,000 local fans to come to a college football game. From the point of view of someone who has edited a college football on North American football for more than a decade, I can tell you that Mexico has two college football leagues. Some regularly cross the border to play Division II and FCS programs.
The Big 12 has made some bold moves in commissioner Brett Yormark's first year. But, most have been low-risk moves designed to build the league's audience and get some immediate return. Even the Rucker Park initiative, while outside the Big 12 footprint, doesn't come with much risk.
This, to me, is medium risk. It's not a high-risk, high-reward move. The NFL has shown there's an audience for pro football in Mexico. Now, THAT's the NFL and I won't argue that point. But there's a novelty to the Big 12 going to Mexico that will likely draw a solid crowd.
The real goal here is to drive media engagement and attention for the league. A game like this will get a showcase spot on either ESPN or FOX and likely do solid ratings. It should also drive some revenue. For that, I think two Big 12 teams will be OK with giving up one home game in 2024.
But, if you like debate, Pete Mundo took the 'Why the Big 12 Should Do This' angle and Jackson Moody took the 'Why the Big 12 Shouldn't Do This' angle. Plus, here are our proposed best match ups for the game.
This Week in "As The Pac-12 Turns"
Earlier this week most of the college sports world was in Arizona for a host of meetings as college sports starts to wind down for the athletic year. That means athletic directors were there. It also means reporters were there.
And, boy, did Wednesday get fun.
In one corner was CBS Sports' Dennis Dodd, who wrote via sources that ESPN was no longer interested in the Pac-12's Tier 1 media rights. That would be the league's top football and basketball games.
In the other corner was The Athletic's Nicole Auerbach, equally as well-sourced as Dodd, who wrote that ESPN has still in on those Tier 1 rights and had spoken to the Pac-12 as recently as, well, Wednesday.
The absurd part of this is that the two reports came out within hours of each other.
So what to make of this? Dodd and Auerbach are well-sourced reporters. I have no doubt that's what their sources told them. It's entirely possible that something changed between Dodd's report, which came out first, and Auerbach's, which came out later in the day. It's certainly possible the pair have different sources that are both credible.
But it also underscores just how complicated all of this is getting, at least publicly. The Pac-12 needs a media deal. The league needs that media deal to be worth enough to keep the league together and to attract new membership. And the Pac-12 needs that deal soon, probably no later than August.
At some point, the rubber meets the road. It has to.
Re-Name the Big 12 Conference!
Yep, it could happen. A report on Friday from 247Sports.com said that the league could take on new branding and even a new name if it were to add new members starting in 2025.
For some, it might be welcome. The Big 12 hasn't had 12 teams for a decade and won't have 12 teams until 2024, when Oklahoma and Texas leave. And, if the league were to add more teams, well, what's the point of being called the Big 12?
But, at the same time, the Big Ten is about to have 16 members and it certainly isn't hurting that league's brand.
Meanwhile, we think the Heartland Conference has a nice ring to it. Funny thing is there used to be a Heartland Conference in Division II, but it's now defunct. There is a Heartland Collegiate Athletic Conference, which is based in Division III.
So time to get on that, Yormark. I'm SURE Pete would swing you a good deal for the site.
You can find Matthew Postins on Twitter @PostinsPostcard