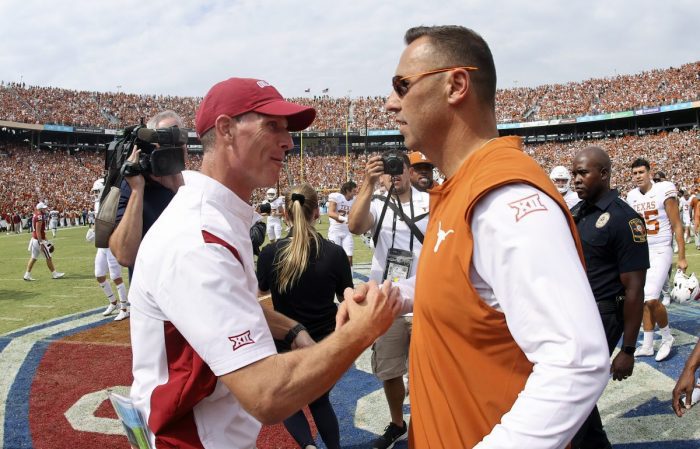 Here is everything you need to know ahead of the 2023 Allstate Red River Rivalry between the Oklahoma Sooners and the Texas Longhorns.
GAME INFO
Saturday, October 7; 11:00 a.m. CT; Cotton Bowl Stadium; Dallas, Texas
TV: ABC
Radio: Sooner Sports Radio (Toby Rowland, Teddy Lehman, Gabe Ikard); Longhorn Radio Network (Craig Way, Roger Wallace, Will Matthews)
Records: Oklahoma 5-0 (2-0); Texas 5-0 (2-0)
Last Week: Oklahoma 50, Iowa State 20; Texas 40, Kansas 14
Rankings: Oklahoma No. 12 (AP); Texas No. 3 (AP)
Series History: Texas leads 63-50-5
Last Meeting: Texas 49, Oklahoma 0
Line: Texas (-6.5)
Fun Fact: Texas demolished Oklahoma in last season's matchup, 49-0, after going 0-4 against the Sooners from 2018-21. Coming into the 2023 matchup, Oklahoma has won seven of the last 10 meetings.
KEY PLAYERS
OKLAHOMA SOONERS
QB Dillon Gabriel
Dillon Gabriel has been as good as any quarterback in the country through five games and will be the Sooners' biggest X-factor going into this game. Through Week 5, Gabriel has completed 75.2% of his passes for 1,593 yards and 15 touchdowns to two interceptions, adding 95 yards and four touchdowns on the ground. In Week 5 against Iowa State, Gabriel became the first player to throw for over 300 yards against the Cyclones in 2020. He will need to remain on top of his game if the Sooners are to pull off the upset.
LB Danny Stutsman
Danny Stutsman has been playing at an All-American level this season, leading the Big 12 with 9.8 tackles per game, and 49 total stops. He also ranks second in the conference in tackles for loss (9.0) and has recorded two sacks, an interception (pick-six), and a fumble recovery on the year. He's been dealing with a shoulder stinger over the past couple of games, but has played through the issues and continued to be the unquestioned leader of the Sooners' defense.
TEXAS LONGHORNS
QB Quinn Ewers
After an up-and-down redshirt freshman season, Quinn Ewers has taken a major step forward in his season as the Longhorns' starting quarterback. Through five games, Ewers has completed 66.0% of his attempts for 1,358 yards and 10 touchdowns to just one interception, adding 74 yards and five scores on the ground. Outside of a shaky performance against Wyoming (in which he still threw for two TDs), Ewers has commanded Steve Sarkisian's offense with precision and confidence. After a huge game against Oklahoma last season, Ewers will look to etch himself in Red River lore with a 2-0 record against the Sooners.
DL T'Vondre Sweat
Texas' defensive front has been formidable this season, allowing just 94.6 rushing yards per game on the ground. Much of that has to do with defensive tackle T'Vondre Sweat. At 6'4, 362 pounds, Sweat is a physically imposing anchor for the Longhorns' defensive line and is the kind of player that demands all kinds of attention from opposing offensive lines. With 15 tackles and a sack through five games, it might not seem that Sweat is an impact player to the untrained eye, but he will make his presence felt in this game if OU can't keep him under wraps on the interior.
KEY STORYLINES
OKLAHOMA SOONERS
Can Oklahoma find balance offensively? As odd as it may seem, the biggest concern for the Sooners coming into this game is its offense, not its defense. OU's passing game has been prolific under Dillon Gabriel, but the running game has certainly left something to be desired to this point. While 157.6 yards per game rushing isn't a glaring issue, it is coming into this game. Historically the team that rushes for more yards in this game wins the matchup, and Texas is averaging 191.8 yards per game on the ground. That's a cause for concern.
TEXAS LONGHORNS
How well does Quinn Ewers perform under pressure? At times, Quinn Ewers has shown the propensity to struggle when under duress, and against Brent Venables' defense, he'll face all kinds of blitzes. OU has faced a lot of max protection to this point, but their improved defensive front is still finding ways to create pressure, holding opposing quarterbacks to the seventh-lowest passing efficiency rating in the country. If Texas is going to run the wide-open style of offense that we've seen from them to this point, it's going to require trust from their offensive line and trust that Ewers can remain accurate with defenders headed his way.
PREDICTION: Oklahoma 31, Texas 27
When looking at this game on paper, it is shaping up as an instant classic. The Sooners and Longhorns have both looked extremely impressive coming into this game and look to be evenly matched, which was not the case last season. Both teams have been demoralizing defensively, explosive offensively, and are living up to the hype as the Big 12's best football programs. We haven't seen a Red River Rivalry of this magnitude in over a decade, and it feels like this is going to be one of those games that folks in Burnt Orange and Crimson & Cream are going to remember for a long, long time.
With that being said, this is truly a game where you throw out the records, stats, and history, because when these two teams match up, anything can happen. In the last few years, we've seen this game go to 4OT, a 28-7 lead erased, and a 49-0 beatdown when the line was only 7.5 points. This season, I'm going with the unexpected once again. Oklahoma comes into this game ranked No. 12 in the country despite the analytics suggesting that they might be one of the top teams in the country. OU has played like it has a chip on its shoulder this season, and it has something to prove after being embarrassed in 2022.
Give me Brent Venables and the Oklahoma Sooners to prevail in this one on the back of a spectacular performance from the much-improved OU defense.