BYU Cougars
Four Week 12 Games That Will Have a Profound Impact on the Big 12 Race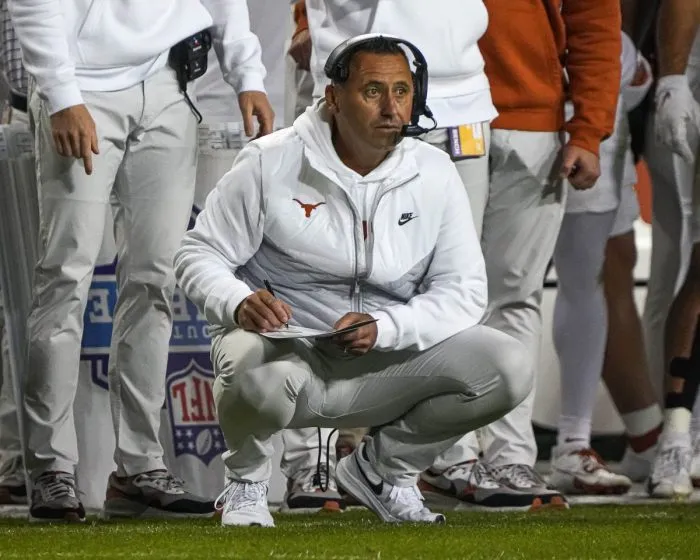 By now, we've all heard about the controversy surrounding the Big 12 Championship tiebreakers and how a "clarification" of the procedures may or may not have changed the outcome of certain ties comes the end of Week 13.
While some fan bases might be up in arms, and others feeling much better about their chances after this week's events, the games must still be played. In a league as unpredictable as the Big 12, that means that nothing is set in stone because, quite literally, anything can happen from week to week in this league.
There are seven Big 12 matchups on deck this weekend, and while all of them will affect the final standings in some way, there are four games that will have a profound impact on the Big 12 race.
Here's what's at stake in each game, and what a win/loss for each team would mean.
A Texas win means…
The Longhorns are locked into the Big 12 Championship. Regardless of what happens next weekend against Texas Tech, Texas would be one of the two teams playing for a Big 12 title in Arlington with a win over Iowa State.
The loss would effectively end Iowa State's chances of making the Big 12 title game, which already hinge upon them winning out and having either Oklahoma or Oklahoma State lose a game.
Additionally, a Texas win would keep the status quo in the tiebreakers, leaving the OSU-OU-KSU three-way tie in place (assuming they win), which greatly increases Oklahoma State's chances of making the cut.
An Iowa State win means…
The Cyclones' chances of making it to Arlington are alive and well. They would still need to beat K-State and have either OU or OSU lose, but the win would also give them a tiebreaker over Texas and Oklahoma State in the event of a head-to-head tie.
It would also swing the door wide open for Oklahoma, which has a win over the Cyclones and Longhorns. With Texas at 6-2 in the conference and tied with everyone else, OU would once again control its destiny in making the Big 12 Championship.
Meanwhile, Oklahoma State would need the Cyclones to beat K-State to get in and Iowa State would need a loss from either OU, OSU, or Texas to get in, plus a win over the Wildcats.
An Oklahoma State win means…
The Pokes are one win away from locking up their spot in the Big 12 Championship. If OSU wins this game, they'll be feeling great about their chances of heading to Arlington, with a home game against BYU next Saturday being the only thing that stands in their way.
A Houston win means…
OSU is pretty much out of the race. A loss would drop them to 6-3, which means OU, KSU, and Iowa State would all need to lose a game, plus have Texas lose both games remaining just to be tied again. It would also help OU significantly, as the Sooners would now hold a tiebreaker over K-State with their win over the highest-placed common opponent (Texas), and would need a win against TCU to secure their spot in Arlington.
An Oklahoma win means…
The Sooners are still in the hunt. They'll still need help from Oklahoma State or Texas to get in, but all OU can do is win the games they have left and hope that one of the scenarios that lands them in the Big 12 Championship plays out over the next two weeks.
A BYU win means…
The Cougars get to bowl eligibility, but more more importantly, eliminate Oklahoma from the Big 12 title race. This also opens up the door for Iowa State, who would then have a chance at finishing atop the regular season standings with a win over K-State in Week 13, and a head-to-head win over OSU to take the top seed.
A K-State win means…
The Wildcats stay in the hunt and drop Kansas to 4-4 in Big 12 play. Why does that matter? Well, if tiebreakers come down to team records over the highest-placed common opponent, a fourth loss on Kansas' resume might drop them below a team like Iowa State or Texas Tech in the standings. While Kansas won't be in the Big 12 title game, where they finish could have a major impact on who does.
A Kansas win means…
K-State would be eliminated from contention, while Kansas would move to 5-3 in Big 12 play on the season with just Cincinnati left on the schedule. With a hypothetical 6-3 finish in conference play, the Jayhawks are almost assuredly the highest common opponent for potential ties, as they are the one team that all five of the conference's top contenders will have played this season (talk about a tough draw). This would also eliminate the three-way tie scenario that caused a stir, leaving Oklahoma State to move on over OU with a head-to-head win in Bedlam.