Big 12 Recruiting
Texas Longhorns Recruiting Spotlight: Five-Star ATH Ja'Tavion Sanders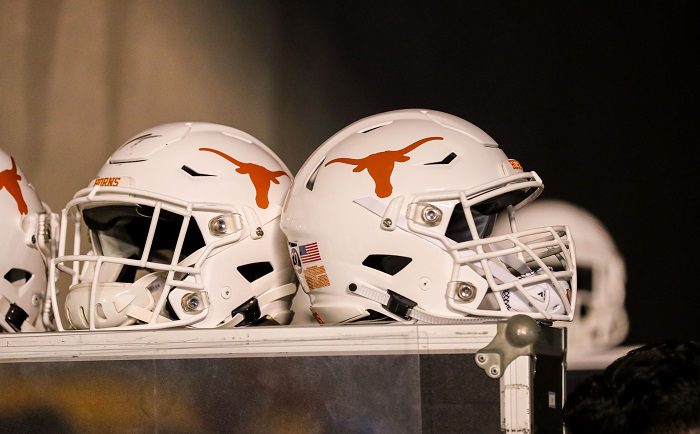 The crown jewel of the Texas Longhorns 2021 recruiting class is five-star ATH Ja'Tavion Sanders. Sanders was coveted across the college football landscape. Sanders boasted 23 offers, and would have been even more, had he not been so clear early in his recruitment that he was going to be a Longhorn.
Denton Ryan has the recent reputation of producing elite prospects who can play on both sides of the ball, and head coach Dave Henigan does everything in his power to help his players make the most of their potential college opportunities. Last season, it was five-star stud Drew Sanders, who chose to go to Alabama to play linebacker over remaining committed to Oklahoma to play tight end. This season, Denton Ryan won the Texas 5A State Championship largely due to the play of flexible athletes yet again, led by Ja'Tavion Sanders and Oklahoma signee Billy Bowman. Denton Ryan is turning into a factory for flexible athletes and the red river schools have clearly taken note.
Ja'Tavion appears to be destined for big things, whether he plays off the edge as defensive end/outside linebacker role, or as a tight end catching touchdown passes from Casey Thompson or Hudson Card. Texas head coach Steve Sarkisian has already noted that Sanders will play on both sides of the ball, at least in some capacity, while he is in Austin. However if we look at the big picture, there is much more money in the NFL for edge rushers than catching passes, so the expectation is that he will work primarily from that edge spot.
Ja'Tavion did not early enroll, but he is such a freak athlete it is hard to imagine that the Longhorns do not give him a role that would allow him to contribute right away. During his 2020 high school season, Sanders took most of his snaps as a wide receiver. He hauled in 63 catches for 1145 yards and 16 touchdowns. Oh and if you haven't seen his viral catch from this past season, here it is.
During Sanders' sophomore and junior campaigns, he played most of his time on defense, and recorded 13.5 sacks and a mind-blowing 32 tackles for loss. In addition to his versatility in football, Sanders was a good track athlete who competed in long individual runs as well as team relays. Ja'Tavion also showed off his athletic prowess as a basketball player where he starts at center for Denton Ryan, a good program that went 20-6 a season ago. 
At the end of the day, there are not many athletes built this way, and according to Gabe Brooks of 247sports, he draws comparisons to Tennessee Titans TE Jonnu Smith and former Atlanta Falcon super star Vic Beasley as a defensive end. To me, as a tight end prospect he reminds me of former Texas Tech super star Jace Amaro, who was able to terrorize the Big 12 and become a unanimous All-American for the Red Raiders. However, standing at nearly 6'4 and a light 235 pounds, Sanders has the ideal size to play on the edge, whether he puts his hand on the ground, or stands up, and plays more of an OLB role for the Longhorns.
Ja'Tavion reminds me a lot of former Big 12 Defensive Player of the Year Brian Orakpo. He has elite athletic ability, and body control while also, boasting superb speed for his size, and tenacity to finish.
At the end of the day, it's all in the money. At Texas I fully believe he will be an EDGE player, who will play some tight end, but as his career progresses, defense will be the focus.
The front line could be incredibly dangerous at Texas in 2020. The Longhorns will start sophomore Alfred Collins on the edge and having Sanders line up next to time just sounds too tempting to ignore. By midseason, I see Sanders being the full time starter opposite of Collins, leading in the race for Freshman Defensive Player of the Year award.
That being said, enjoy him Texas fans. My guess is he's only in Austin for three seasons.
**Want to win a $20 gift card?  Go sign up here and join our conversation! The best poster each week wins a gift card to your favorite establishment!**