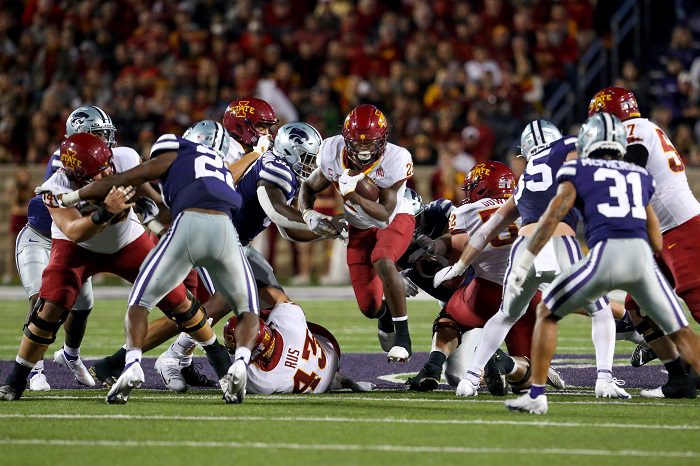 It was another wild weekend in the Big 12 from the off-field news to the on-field play. There was plenty of excitement on Saturday and I will break it all down here for you as I share the good, bad, and ugly from week seven in the Big 12.
The Good
Oklahoma State (Beat Texas 32-24)
The Oklahoma State train keeps on rolling as the Cowboys remain undefeated at 6-0 after a trip to Austin. Forget about Spencer Sanders because this game was all about the run game and defense for the Pokes. Jaylen Warren carried the offense on his back yet again rushing for 193 yards averaging 5.8 yards per carry. Pair that with a great defense and that's a recipe for success. Oklahoma State limited the Texas offense and held them to just 24 points.
Before the game on Saturday, the Longhorns were averaging well over 40 points a game, but Oklahoma State defensive coordinator Jim Knowles continues to look like a defensive genius. The Pokes dominated the second half and to me, the turning point in this game was the Jason Taylor pick six. Without that play, I am not sure the Cowboys come back, but I must give credit where it's due. With the win, Mike Gundy is now 6-1 in his last seven trips to Austin.
Baylor (Beat BYU 38-24)
Much like Oklahoma State, Baylor did two great things on Saturday which was running the football and playing good defense. Sure, they struggled some against the pass but allowing 24 points is acceptable.
Last week, the Bears used the passing game to beat up on West Virginia and this weekend it was all about the run game. Baylor rushed for over 300 yards against BYU with Abram Smith leading the way with 188 yards and three touchdowns. The offensive line played a great game opening up holes all game long and the difference in this game was in the trenches. Baylor won by a landslide in that area.
Texas Tech (Beat Kansas 41-14)
There is not a lot I am going to takeaway from this due to the fact that it's Kansas. Tech came in as favorites and did what any team should do against the Jayhawks. The run game was big for the Red Raiders rushing for over 250 yards and even backup quarterback Donovan Smith got to see some action as well. The question I have is while Tech sits at 5-2, can they win one more game to get bowl eligible? We will find out soon enough.
Iowa State (Beat Kansas State 33-20)
What a game for the Cyclones to get their first win in Manhattan, Kansas for the first time since 2004. Iowa State started the game with a 75-yard touchdown run by Breece Hall and never looked back. Meanwhile, Brock Purdy had a great game going 22/25 for 208 yards and a score. The Cyclones had two drives in this game that went for 13 plays or longer and took over seven minutes off the clock. On one particular drive, Iowa State converted five third downs. They absolutely wore down the Kansas State defense and thoroughly beat them in their own game.
It was also great to see the defense continue to play well and how about the special teams? Andrew Mevis was excellent in the kicking game going 4/4 on his field goals and all four went from 40 plus yards. I checked the calendar, it is Brocktober, and Iowa State won Farmageddon.
Oklahoma (Beat TCU 52-31)
What a first start for Caleb Williams. He went 18/23 for 295 yards and had five total touchdowns on the day. It was clear as day that Caleb Williams is the guy moving forward and with his performance, he displayed that on Saturday night. Kennedy Brooks had another good game with 175 rushing yards as well and how about Jadon Haselwood having his big breakout game catching three touchdowns?
The defense still needs to work on few things which starts with tackling. They did a poor job tackling against TCU. I know there are some injuries on this defense but if they can clean a few things up, this team will be just fine.
The Bad
Kansas State (Lost 33-20 to Iowa State)
There is plenty to complain about for Kansas State on Saturday night. They dug themselves in a hole early on and never got back into the game. Due to that, it was hard to get Deuce Vaughn and the ground game going which means trouble for the Wildcats. Defensively, this team struggled to get off the field, especially on third down. They allowed the Cyclones to convert 9 of 15 third downs as the defense just got worn out. I am still not sure what to make of this team, but they didn't look like a team that had two weeks to prepare for this game.
TCU (Lost 52-31 to Oklahoma)
I can't put the blame on the offense for this performance. I thought Max Duggan played well and Quentin Johnston was outstanding catching three touchdown passes. However, this defense is just playing bad football right now. They gave up over 225 yards on the ground and let Caleb Williams do whatever he wanted. Until this team can get their act together defensively, they will be on the outside looking in for the Big 12 title race.
The Ugly
Texas (Lost 32-24 to Oklahoma State)
Another game means another fourth quarter collapse by Texas. The Longhorns were up 17-3 and were knocking on the door to score once again late in the first half before Casey Thompson threw a crushing pick six. That gave life to Oklahoma State, and it seemed like Texas never recovered from that. In the fourth quarter, the Longhorns were outscored 16-0 and in their last two games Texas has been outscored 41-7 in the fourth quarter. And how does a Steve Sarkisian offense only manage to get one yard of offense in the fourth quarter?
Bijan Robinson is a great running back, but the rest of the offense must play better and that includes Casey Thompson. This defense still needs some work, but this team needs to learn how to bounce back and finish football games. Until they do, it is going to be another up and down year in Austin.
Kansas (Lost 41-14 to Texas Tech)
This was one of the games where I thought maybe Kansas had a chance to win a conference game, but I was wrong. The Jayhawks got manhandled in this one and never had a chance from the start. I have nothing to takeaway here and it seems like the season can't end fast enough for this team. There is still plenty of work to do for Lance Leipold.