featured
Jalen Hurts' Road to Super Bowl LVII Has Prepared Him for the Moment of His Life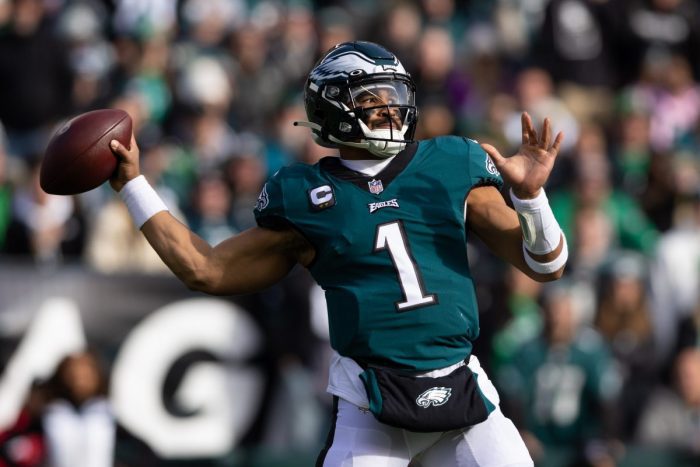 The road to Super Bowl LVII has been littered with potholes and pit stops for Philadelphia Eagles quarterback Jalen Hurts, but he will lead his team out of the tunnel with a chance at immortality all the same.
As a true freshman in 2016, Hurts won the SEC Offensive Player of the Year Award on his way to leading Alabama to the national title game. When the Tide found themselves back in the national championship in 2017 with Hurts at the helm, the Tide were having a hard time figuring out the Georgia defense, and found themselves down 13-0 at the break.
So, in one of the most challenging decisions a coach can make, Nick Saban decided to bench his starting quarterback, Jalen Hurts, and give Tua Tagovailoa a crack at the Bulldogs.
The decision paid off, as Tagovailoa led the Crimson Tide to a comeback victory over the Bulldogs by a score of 26-23. It also changed the trajectory of Hurts' career.
"We had a conversation. [Hurts] wanted to graduate from Alabama, so he wasn't going to transfer until he graduated," Saban said in an interview with 33rd Team. "I said 'You need to work on becoming a better passer. You can't just make plays with your feet. So this whole season, I want you to focus in practice on reading coverages, understanding the passing game better, and being able to read and dissect what you need to do quickly'… And his diligence in doing that on a daily basis—he wouldn't take off in practice, he made himself stand in the pocket and learn how to do that."
Hurts would serve as the backup behind Tagovailoa for the 2018 season and wouldn't get a real chance in the spotlight until the SEC Championship. When Tua went down with an injury with just over 11 minutes to go in the ball game and the Tide were down 28-21. Jalen was ready for the moment, because unlike others around him, he didn't pout, whine, or complain that he'd lost the starting job. He worked.
That's why, when Hurts stepped into the game, Alabama took over. With a two-touchdown performance (one passing, one rushing), Hurts lifted Saban's Tide over Georgia to reach the College Football Playoff. Tua would return to start for Alabama in the Playoff, and Hurts would elect to transfer in his final season to play at Oklahoma, after a bit of advice from his head coach.
"When he wanted to transfer, I said 'well, who has the best players,'" Saban recalled. "He wanted to go to Maryland or Miami. I said, 'you need to go to Oklahoma. They've got the best players. They've got the best coach to develop you as a quarterback and you're gonna be around the best players so that's going to enhance your chances of having success.' So, he did that, he had a great year. I was worried about having to play him in the playoffs… and I can't tell you how proud I am of seeing this guy in the Super Bowl."
So, Hurts packed his bags and went to Norman, Oklahoma, to replace Kyler Murray and Baker Mayfield before him. The prospect of following up two Heisman winners didn't scare Hurts off. In fact, it seemed to awaken something inside him.
During his senior season at Oklahoma, Hurts threw for 3,851 yards and 32 touchdowns to just eight interceptions, adding 233 carries for 1,298 yards and 20 touchdowns on the ground. His passing yards and touchdowns, as well as rushing yards and touchdowns, were all career highs in 2019.
Hurts ranks eighth in Oklahoma's all-time history with 5,149 yards of total offense and ninth in career passing yards (3,851) and career TD passes (32) despite playing just one season.
In 2019, Hurts was named a Heisman finalist and finished second to LSU's Joe Burrow in votes.
After his amazing season at Oklahoma, there were still those that doubted Hurts could be a quarterback at the next level. Despite completing 69.7% of his passes as a Sooner, questions arose about Hurts' accuracy, and his ability to pull the trigger when it was time to get rid of the football.
"He's got good arm strength and he's really sharp, and he's always won," one of Hurts former Alabama coaches told The Athletic, "but it seemed like everyone always had some question, 'Yeah, but can he do it at that next level?'"
Hurts was selected by the Eagles in the second round of the 202 NFL with the 53rd overall pick. At the time, Carson Wentz was still on the roster and seemed to be the future at quarterback in Philly. Eagles fans were outraged, and hated the pick, going as far as to overwhelmingly grade it as an F.
As Bruce Feldman points out, Hurts has improved dramatically each season since he entered the NFL.
"Hurts started four games as a rookie, completing 52 percent of his passes, and improved to 61 percent the next season. This season he jumped to 67 percent to go with a 22-to-6 TD-to-INT ratio," Feldman writes. "his also happens to be the first time since high school that Hurts is playing in the same system with the same offensive coordinator for back-to-back seasons.
In his best season to date, Hurts has totaled 3,976 passing yards with 24 passing touchdowns, adding 833 yards and 15 touchdowns on the ground.
On Thursday, Hurts spoke with media ahead of Super Bowl LVII and was asked about wanting to prove his critics wrong. He spoke shortly about focusing on the process of improving, but then he dropped a one-liner that might prove to be a staple of his story.
"I had a purpose before everybody had an opinion. It's not about anybody else," Hurts said.
"Y'all know y'all liked that one," he said with a smile as laughter filled the room.
Hurts, now 24, is wise beyond his years and has an aura around him that you wouldn't expect to come from a man with such youth. Perhaps a better way of saying it would be that Hurts is an old soul, and that is one of the many qualities that makes him an outstanding leader.
The ever-winding road that Hurts has taken to this point in his career has led him to a moment that only 6% of NFL quarterbacks ever get to experience. On Sunday, Hurts will join 64 quarterbacks before him that have started in a Super Bowl.
Hurts and the Eagles will take on Patrick Mahomes and the Kansas City Chiefs on Sunday, with kickoff slated for 5:30 p.m. CT.