Baylor Bears
Five Biggest Takeaways From Week 2 of the Big 12 Football Season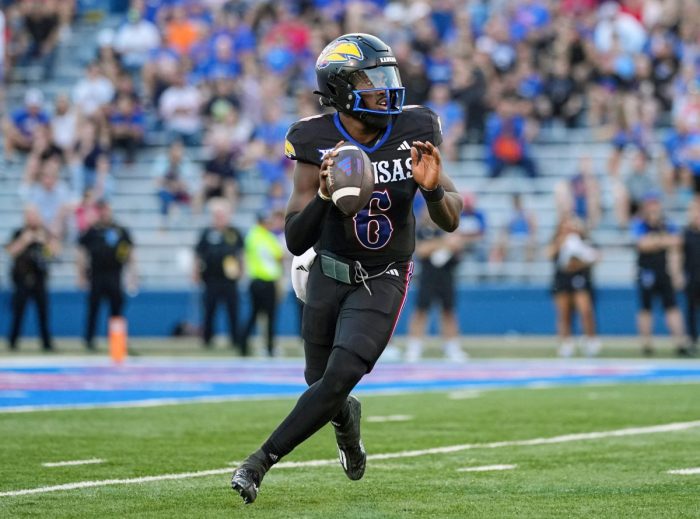 Week 2 of the Big 12 football season is in the books as the college football season starts to pick up steam. There were 14 games on the docket, and there were some great performances, such as Texas, Oklahoma State and Cincinnati, while Houston, Texas Tech and Baylor were some of the more disappointing games of the weekend.
So with a wild week in the books, here are the five biggest takeaways from Week 2 in the Big 12 Conference.
Steve Sarkisian Gets His Program-Defining Win
Steve Sarkisian started Year 3 as the Texas Longhorns head coach with enormous expectations. Then on Saturday night he went into Tuscaloosa and beat Alabama 34-24. Texas was picked to win the Big 12 in their final year in the conference, along with being a College Football Playoff pick for many. While this game would not have hurt their chances of winning the league, or even potentially making the Playoff, winning it completely changes the discussion for this UT team. It is the best win of Sark's tenure as the head coach, and one that will now up the expectations that the Longhorns must win the Big 12. Anything less will be a disappointment.
Baylor, Texas Tech Blow it vs. Pac-12
Both teams had Pac-12 wins in their grasp that they let slip away. Baylor's was far worse, as they led for most of the game, including 13-6 to start the fourth quarter before allowing Utah to put together a pair of lengthy touchdown drives to take the lead and seal the win in Waco. Then, Texas Tech and Oregon had several lead changes between the two teams on Saturday night in Lubbock. But when the Tech defense needed to get a stop, it couldn't (although I believe the officials got it wrong not awarding Tech an interception early in the 4th quarter before Oregon kicked a field goal to go up 28-27), and when it was the offense's turn to make a big play at the end (and going for it on 4th and 2 at your own 33-yard line?!), it couldn't. Instead, the game was sealed after Tyler Shough, who was amazingly still upright after throwing 38 passes and rushing the ball 23 times, tossed a pick sick to essentially end the game. These are two tough losses for the Big 12 to swallow.
Are We Overlooking Kansas?
The Jayhawks had one of the best performances of the weekend on Friday night, rolling to a 34-23 win over Illinois, a game in which they led 28-7 at halftime. Big 12 Preseason Player of the Year Jalon Daniels played for the first time this season and was impressive, finishing 21/29 for 277 yards, two touchdowns and one interception. Devin Neal finished with over 100 rushing yards, 47 receiving yards and a touchdown in the win. The Daniels-Neal QB-RB duo could be the best in the Big 12 this season. And if the defense can get in the backfield the way it did on Friday night (6 sacks, 9 TFLs), then Kansas might be the real sleeper of the 2023 Big 12 season.
Dana Holgorsen Will Always Be Dana Holgorsen
I haven't watched many Houston football games since Dana Holgorsen took over the program, but it's good to see some things haven't changed. After a great win as an underdog last week against UTSA, Holgorsen and the Cougars didn't show up for their road game against Rice. And by the time they did it was too little, too late. Houston was down 28-0 in this game, stormed back to tie it up, and then lost in double overtime 43-41.
We've seen the script before with Holgorsen during him time at West Virginia, just ask Mountaineer fans. It can be infuriating how inconsistent his teams look from week-to-week. And it looks like that could be the case at Houston this season. Or they're just not very good.
The Genius of Mike Gundy?
For a second-straight week, Mike Gundy played all three of his quarterbacks in Alan Bowman, Garret Ragel and Gunnar Gundy, as the Cowboys came back to beat Arizona State on the road. Through two games, Bowman has now led eight drives for 10 points, Gundy has led eight drives for 24 points and Rangel has led seven drives for 17 points.
It's certainly unconventional, but in this case, I'm not questioning Mike Gundy. His team is quietly 2-0 with a couple of performances that no one would consider pretty, but he's getting the desired outcome as he tries to figure out who his quarterback is going to be for the rest of the season.
Or heck, maybe Gundy never decides on one of the three and just rolls with all three guys, depending on the situation? I don't think it's likely, but we are talking about Mike Gundy here. It's not always conventional. But guess what? His track record speaks for itself, so I'm going to follow his lead on this one and see how the next couple of weeks play out.