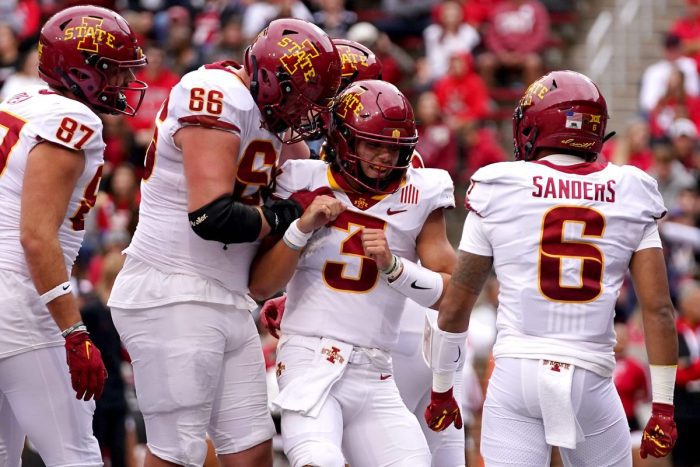 Cincinnati welcomed in Iowa State on Saturday following its bye week for a Week 7 Big 12 match up. It was Homecoming Weekend for the Bearcats, who were trying to snap a three-game losing streak. Meantime, Iowa State was fresh off a win against TCU at home, while having won two of their last three.
On Saturday, it was the Cyclones using all three facets of the game, offense, defense and special teams, to go on the road and beat the Bearcats 30-10.
Here are three thoughts on the game.
Rocco Becht Keeps Progressing
The young signal caller continues in his first season starting for the Cyclones and it seems like he gains confidence with each passing drive. You can look at Becht's box score and not be overly impressed (15/25, 241 yards, two TDs), but that doesn't come close to telling the whole story.
Rocco Becht had key completions during critical parts of the game, while his two touchdown passes were perfectly placed. In fact, the Cyclones' drive that ended early in the fourth quarter to put ISU up 30-10 may have been the best drive Becht has led in his young career. There were multiple passes placed perfectly into the hands of his receivers, along with a well-executed 4th and short that ended with Cincinnati jumping offsides to continue the drive. That eventually led to ISU's touchdown that essentially clinched the victory.
Becht is using his tight ends effectively in the red zone, finding Benjamin Brahmer and Stevo Klotz for scores, which was reminiscent of what Brock Purdy used to do with Charlie Kolar and Chase Allen.
Special Teams U
The biggest knock on Matt Campbell's tenure as Iowa State head coach has been the struggles in the Special Teams. However, Saturday was anything but a problem, in fact, it was one of ISU's strengths. Chase Contreraz was 3/3 on field goals and 3/3 on extra points for a total of 12 points. Jaylin Noel had a 72-yard kick return and Tyler Perkins averaged over 47 yards per punt, including pinning one inside the 20-yard line of the Bearcats.
This is exactly the kind of special teams play that Cyclones fans have been hoping for for years, especially with Iowa State often finding itself in close games. That wasn't the case on Saturday, but it was welcomed.
Cincinnati's Pass Defense and Passing Game Remain Problematic
The Bearcats issues on defense have not been against the run (No. 2 in the Big 12 coming into this game), but rather in the passing game, where they ranked No. 13 in the league in pass defense efficiency. That continued again on Saturday, allowing ISU to average nearly nine yards per pass.
Meantime, Emory Jones really struggled on Saturday at quarterback. He threw two interceptions, which led to a pair of Iowa State field goals when the game was still in reach. His offensive line didn't do him any favors as the pocket broke down quickly on Jones throughout the afternoon, but his inability to make big plays was evident throughout the afternoon.
Cincinnati is now 0-3 in Big 12 play, with the three losses by an average of two touchdowns.