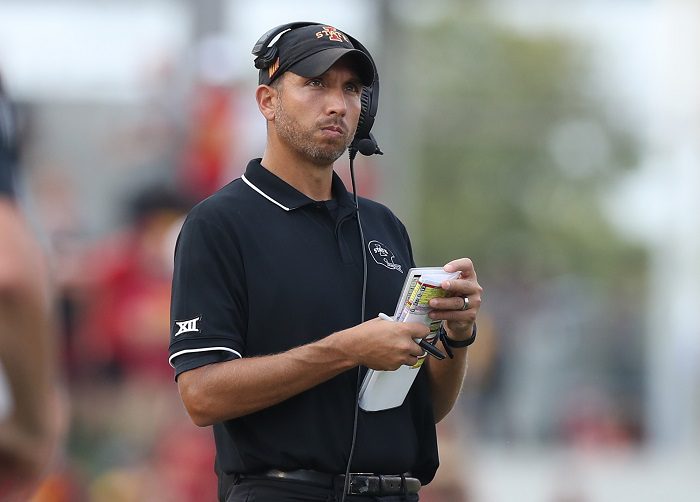 It was a wild week two in the Big 12 from the off-field news to the on-field play. There was plenty of excitement, but at the same time there were a handful of disappointments. I will break it all down here for you as I share the good, bad, and ugly from week two in the Big 12.
The Good
Oklahoma (Beat Western Carolina 72-0)
Unlike last week against Tulane, there were no scares in this game as the score was already out of hand by the second quarter. The Sooners racked up 277 rushing yards and Spencer Rattler threw for five touchdowns. Just about everyone got reps in this game. And how about the defense? They pitched a shutout and held Western Carolina to under 200 yards. Did I learn anything about the Sooners from this game? Not really. Oh, and the Pride of Oklahoma honoring the 9/11 victims after the game was extra outstanding.
West Virginia (Beat Long Island 66-0)
This game was boring, which is a good thing because West Virginia took care of business. The game was never close literally from kickoff because the WVU took it for six. Jarret Doege played a clean game and plenty of backups got reps as well. The defense got the shutout and allowed less than 100 yards of offense which was pretty amazing, even though they played an inferior opponent. If there is one concern I have it is the run game. Last week, the Mountaineers averaged 2.3 yards per rush against Maryland and on Saturday, they averaged just 3.6 against Long Island.
Baylor (Beat Texas Southern 66-7)
Much like the two games above, there isn't a lot to take away from this one. Baylor did what Baylor was supposed to do. The Bears did not have to throw the football much considering they had over 400 yards on the ground as three Baylor players (Abram Smith, Trestan Ebner, and Taye McWilliams) had over 100 yards a piece. Also, despite all the rushing attempts the Bears averaged a whopping 9.7 yards per carry.
TCU (Beat Cal 34-32)
I will be honest with you, I did not see the TCU defense giving up more than 24 in this game and to my surprise, they gave up quite a few big plays in the passing game. However, it was the offense that carried the team. More importantly, the run game was the big factor for TCU. Zach Evans had a breakout game with 183 rushing yards and a score. Also, Wide receiver Quentin Johnston had a big day with 95 yards and two touchdown catches. Max Duggan did not play his cleanest game, but I thought he really settled in by the second half. It may not have been pretty at times, but the ground game for TCU was the difference here.
The Bad
Kansas (Lost to Coastal Carolina 49-22)
I can't fault Kansas too much here because Coastal Carolina is a top 20 team and they played them on the road. In fact, I thought the score could have been worse before the game, but Kansas did not play as bad as I though they would. They made too many mistakes that were costly and put themselves in bad spots. The passing game and offensive line need some serious work, but I do like quarterback Jason Bean in the run game. His legs have been the best offense for Kansas and at times, he can make something out of nothing. As for the defense, they need all kinds of help because they had no answer for the Coastal offense.
Oklahoma State (Beat Tulsa 28-23)
I know OSU won, but it was not pretty by any means. Tulsa lost to UC Davis last week and they were able to put up a fight against Oklahoma State at BPS. The defense played ok, but the offense is my concern here. The offensive line is still very much a work in progress as the Cowboys averaged just 3.3 yards per carry after averaging just 1.9 the week before in a close game against Missouri State. Spencer Sanders did not ever look comfortable, and he still is making costly mistakes. Also, the play calling is extremely questionable at this point. I know OSU was missing two starting receivers (Tay Martin and Brayden Johnson), but the Cowboys have some young receivers with talent that they simply aren't using them enough. Offensive coordinator Kasey Dunn has some work to do, and the Cowboys are going to play Boise State on the road next weekend.
Iowa State (Lost to Iowa 27-17)
Let me start by saying this game was not in the defense. In fact, that defense held Iowa to under 200 yards and according to Brent Bloom of Cyclone Fanatic, Iowa is the 4th team in College Football since 2016 to have 173 yards or less and win a college football game. The defense did their part, but the offense did not.
The turnovers were back breaking. From Brock Purdy's three picks (I know, not all were his fault directly) to Breece Hall's costly fumble that went the other way for six, Iowa won the turnover battle 4-0 and used Iowa State's mistakes against them. Plus, the field position battle was clearly won by the Hawkeyes. That was the difference in the game. Turnovers and field position. Simple as that. The Cyclones can still reach their goals, but the turnovers and mistakes must go away and also, it was interesting to see Purdy get benched (however Campbell confirmed Brock is still the starter going forward).
Kansas State (Beat Southern Illinois 31-23)
This was a much closer game than what the score shows but first I need to talk about Skylar Thompson. He got injured early on in the game and was not able to finish the game. There is no timetable currently for his return but from what I saw, it did not look good. With that said, Kansas State should have not played this close of a game against a team like SIU. The defense was put into a bad spot here and there and backup quarterback Will Howard threw a pick six as Southern Illinois scored 23 points in the second quarter alone. I get Malik Knowles had over 100 yards receiving and half of it came from one play, but the offense has to get other players outside of Deuce Vaughn involved. I know he is a great player but at times, they become too dependent on him. If Thompson is going to be out for a while, it could be a long season for Kansas State, like it was the second half of last year.
Texas Tech (Beat SFA 28-22)
It was a win, but not necessarily a good win. Tech started off the game with a big 75-yard touchdown pass from Tyler Shough to Erik Ezukanma, but unfortunately for Tech, that was all the scoring they did in the first half. It took two Tahj Brooks rushing scores in the third quarter to take the lead and they were barely able to hold on to a victory. This game was too close for comfort. Tech gave up too much in the passing game on defense and the offense just stalled out too many times.
The ground game is what helped Texas Tech win and surprisingly, it is the passing game that was disappointing. Tyler Shough struggled to get in a rhythm and outside of Erik Ezukanma no other Tech receiver had more than one catch in this game. I am not sure what is going on with Sonny Cumbie's offense, but they need to get things cleaned up quickly because Saturday night was pathetic.
The Ugly
Texas (Lost to Arkansas 40-21)
There have been plenty of embarrassing losses over the last decade for Texas and this one is right up there with the worst of them. The Longhorns were absolutely curb stomped by the Arkansas ground game as the defense gave up over 300 yards rushing in Fayetteville. Even after taking a couple knees to end the game, the Hogs averaged over 7 yards a carry as made the Texas defense look silly out there as they missed tackle after tackle.
As for the offense, it was not much better. Hudson Card could not move around and was under pressure until he got benched for Casey Thompson. Thompson led the Horns to a couple scores when the game was well in hand. There is a TON of work to do in Austin and the concerning part for me is that both lines were bad (offense and defense). Steve Sarkisian better get things figured out quickly or else it will be a long season ahead. Also, welcome to the SEC Texas.