Baylor Bears
Big 12 Men's Basketball Power Rankings: Kansas Holds No. 1, Texas Rising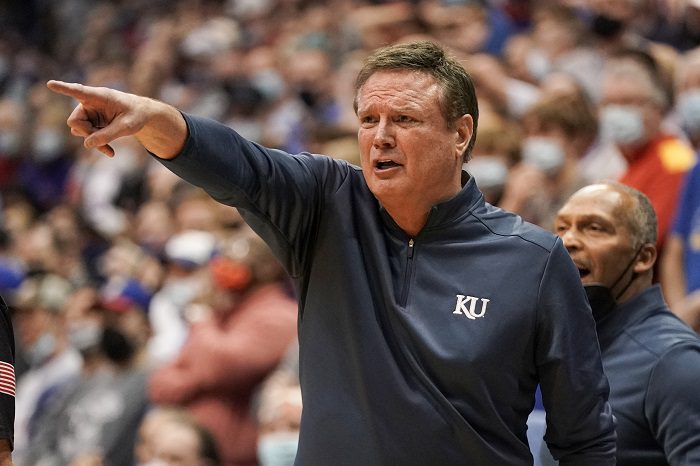 The Kansas Jayhawks remain No. 1 in the Heartland College Sports Big 12 men's basketball power rankings after the second full week of Big 12 Conference action. Our Power Rankings appear every Monday.
Check out Heartland College Sports for men's and women's basketball coverage every day, including our thoughts on big games, the previous week's action, our weekly schedules and daily fantasy lineups as we march toward, well, March.
1. KANSAS (16-1, 5-0: Last Week — 1)
It was a dicey week for the Jayhawks, even though they played both games at home. Kansas had to overcome a 10-point deficit to Oklahoma in the final four minutes, and then slipped by Iowa State by two points on a Saturday devoted to honoring 125 years of KU basketball. Imagine losing that game with every luminary you can imagine in Allen Fieldhouse? Kansas is 302-16 at Allen Fieldhouse under head coach Bill Self.
2. TEXAS (15-2, 4-1: Last Week — 4)
Texas leapfrogs two spots this week after rallying from 18 points down to beat TCU at home and then outlasting Texas Tech at home on Saturday. This is an incredibly deep conference so going 2-0 in a week, even if both games are at home, is a mean feat. The Longhorns are positioning themselves well under interim head coach Rodney Terry.
3. IOWA STATE (13-3, 4-1: Last Week — 3)
I'm keeping Iowa State at No. 3 this week. The Cyclones demolished Texas Tech at home and then fell to Kansas by two points in a road game where they had every chance to win. You could argue that Iowa State didn't play its best basketball against Kansas. But when you can still challenge the nation's No. 2 team on the road in that scenario, you're moving in the right direction.
4. KANSAS STATE (15-2, 4-1: Last Week — 2)
The Wildcats have to take a hit here after their double-digit loss to TCU on Saturday. So why ahead of the Horned Frogs here? It's not always about record. I try to look at the quality of the week, too. The Wildcats beat Oklahoma State and were blown out by TCU. But, the Horned Frogs had Texas blown out on the road and lost an 18-point lead. I think that deserves a bit more weight, at least for now.
And now, a word from Jerome Tang.
5. TCU (14-3, 3-2: Last Week — 5)
This where things start to hold steady in the power rankings. We've already mentioned TCU's loss to Texas and its win over Kansas State. Look — you're fooling yourself if you think the gap between Kansas and TCU is a chasm. It's not. TCU is a sneaky good defensive team and the best transition offensive team in the country. What they haven't quite figured out yet, based on the Texas game is, how should I put this? How to sweep the leg? Yeah, that sounds right. The Horned Frogs made progress on that against Kansas State. TCU gets its shot at Kansas on Saturday in Lawrence. A win there could upend this whole thing.
6. BAYLOR (12-5, 2-3: Last Week — 6)
Baylor needed stability this week, and the Bears got it, with wins over West Virginia and Oklahoma State, both below them in the power rankings. The Bears are going to lean on that perimeter game hard in the coming weeks as they try to make up ground on seeding for the Big 12 Tournament. Flo Thamba had a quality game against Oklahoma State. He needs another game like that against a team that isn't down one of its best forwards.
7. OKLAHOMA (11-6, 2-3: Last Week — 7)
Man, the Sooners missed a golden opportunity to claim a huge win at Allen Fieldhouse on Tuesday. I mean, they had it. They absolutely had it and it just slipped out of their hands. The win over West Virginia was hard fought. From there, the teams appear to be pretty evenly matched and the games against these four teams are going to be single-possession or two-possession affairs. Milos Uzan is an under-the-radar name you need to know.
8. WEST VIRGINIA (10-7, 0-5: Last Week — 9)
I've never heard Bob Huggins be so optimistic about an 0-5 team in league play. The ouster of his top assistant, Larry Harrison was stunning. But it didn't impact the Mountaineers' play on the road at OU. Well-played game, but another near miss. Four of their five Big 12 losses have been two possession games. The Mountaineers need a win, but it's another tough week.
9. TEXAS TECH (10-7, 0-5: Last Week — 10)
Texas Tech also went 0-2 this past week but they got a huge boost with the return of forward Fardaws Aimaq. He'll still need time to get into basketball shape, but he played well in his first outing. The Red Raiders lost that game to Texas by two. Wins are coming, and they may be coupled with Aimaq's improvement. But will it come soon enough?
10. OKLAHOMA STATE (9-8, 1-4: Last Week — 8)
OSU dropped two last week and I dropped them two spots this week because the Cowboys are now the team I'm the most worried about. Their defense is incredible. Their offense is incredibly .. average. Maybe the return of Moussa Cisse — when that comes — will help. But Mike Boynton's Cowboys are playing their way out of NCAA Tournament consideration.
You can find Matthew Postins on Twitter @PostinsPostcard.