Trending Now
UConn Football Recruit Says Team Brought Up Big 12 Possibilities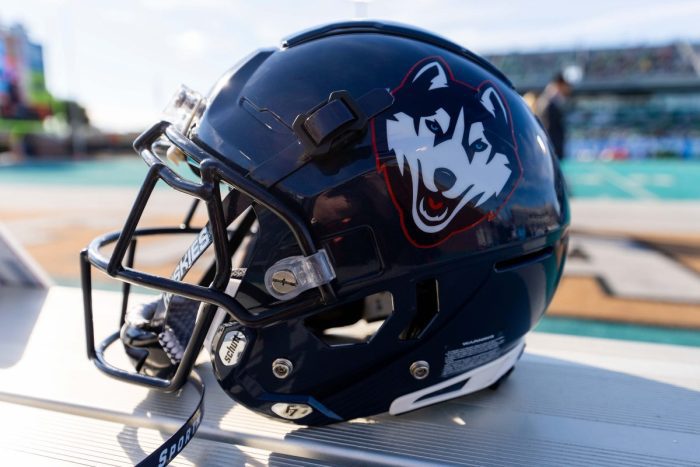 As Big 12 expansion rumors continue to swirl, with the UConn Huskies the latest team to be part of the conversation, the football program is already apparently mentioning the possibility to recruits.
UConn football landed its highest-rated recruit in the Jim Mora era on Thursday when Cole Welliver, a 6-foot-6 quarterback from Texas announced his decision to join the Huskies as part of the Class of 2024.
Welliver did say, according to the Hartford Courant, that the idea of UConn moving to the Big 12 conference was brought up on his visit. "They were talking about the Big 12 and moving to the Big 12; saying how, if it does go through, how such a big deal that would be for all of the players and the school."
Welliver did confirm that the Big 12 rumors served as merely a "cherry on top" for his decision.
Welliver is the No. 293 recruit in the ESPN 300 rankings for the Class of 2024 and the No. 12 quarterback in his class. The four-star prospect chose UConn over offers from Colorado, Arizona State, Colorado State, Washington State and others.
UConn has reportedly been "in the mix" as a possible Big 12 expansion target, with Brett Yormark reportedly visiting the University in recent weeks for an "exploratory visit".
UConn would certainly check off two important boxes for Yormark: 1) A highly-successful basketball program that builds the Big 12 into what the SEC has become in football, which is the undisputed top league in the country. 2) A presence in the New York City TV market, where plenty of UConn alums reside and call home.
However, there has also reportedly been some pushback on Yormark wanting to add UConn, given that they currently aren't a Power 5 program. But regardless, the fact that UConn is outwardly mentioning the possibility to recruits means the chances may be higher (and more imminent) than we realize.