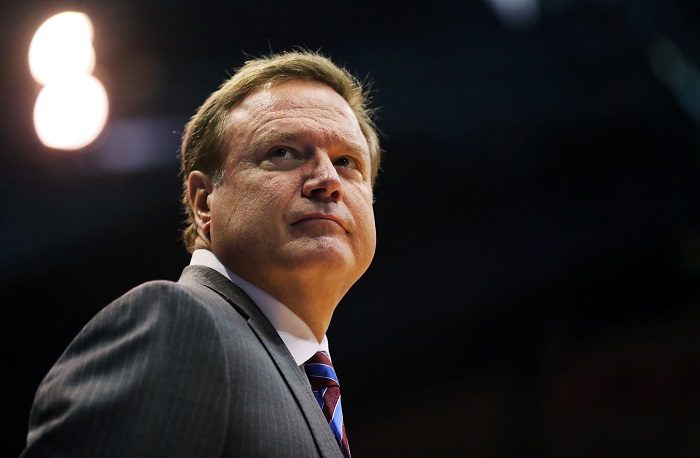 The Kansas Jayhawks men's basketball team got their ruling from the NCAA's Independent Accountability Resolution Process (IARP) on Wednesday.
The results? The NCAA and the IARP downgraded the severity of the five Level I allegations against the program to a Level II case and put Kansas on three years' of probation.
KU head coach Bill Self, who was originally charged with a Level I violation, and was suspended for the first four games of the 2022-23 season, was instead charged with a Level III violation and no additional penalties. Same goes for his assistant coach, Kurtis Townsend.
And, the Jayhawks' 2018 Final Four banner will be coming down and all 2017-18 wins will be vacated because Silvio De Sousa played while ineligible.
Here are some thoughts about how we got here, the ruling and the fallout.
What Did You Expect?
If you thought that the IARP was going to throw the book at Kansas or Self then you haven't been paying attention to their rulings over the past year. In instance after instance, from Memphis to Arizona, the IARP went out of its way to downgrade penalties, to avoid penalizing players (appropriate given the current players had nothing to do with these cases) and to avoid posting crippling penalties on these programs.
Self basically went unpunished. So did Townsend. The school got three years of probation and they already have self-imposed penalties on scholarships. For those who were hoping that all of this might lead to Self's demise, they were incredibly disappointed.
But as far as what I expected, this was pretty much it. The biggest penalty Kansas absorbed was having to take down its 2018 Final Four banner because one player whom they deemed ineligible played on that team. Take down a banner for a Final Four you didn't even win? Yeah I'll take that punishment any day.
Perhaps the hardest pill to swallow is that the Jayhawks also had to vacate those wins in 2017-18 and now Kentucky has more wins than any other Division I basketball program. Kansas would appear to be N. 2.
When in Doubt, Fight
The schools that went through this process and got downgraded punishments all have one thing in common. They all fought them. Tooth and nail, they fought.
This has been a six-year process for Kansas since we learned of the allegations in 2017 (you can read the entire background here). And they fought it every single step of the way. To have five Level 1 violations levied at a program and to walk away from it basically unscathed just lays bare the absurdity of the entire process.
But it also shows other programs around the country that when it comes time to defend your school and defend your program, you do it to the bitter end.
Oklahoma State, of course, learned that lesson the hard way. So did my alma mater, Stephen F. Austin. Both the Cowboys and the Lumberjacks cooperated with the NCAA when it came to less significant infractions, and both received postseason bans.
These punishments basically tells everyone to fight and, on some level, you'll win.
Oklahoma State Enters the Chat
Understandably, Oklahoma State was upset and had something to say about it.
To review, their penalty stemmed back to former assistant coach Lamont Evans' involvement in a bribery scandal, where he would link top players to managers and financial advisers in exchange for bribes. In June of 2020, the Cowboys were hit with sanctions.
The actions were uncovered in 2017. OSU cooperated with the investigation, appealed the sanctions and waited 17 months (17) for a decision before it learned it was banned from the 2022 postseason. None of the players on that team were a part of what happened in 2017, yet they absorbed the punishment.
Coach Mike Boynton Jr. was understandably frustrated then, and he was understandably frustrated on Wednesday when he tweeted this.
I stand by EVERY SINGLE WORD I've said in the past. That's all. Going back on DND; I've got practice. #LetsWork

— Mike Boynton (@thacoachmike) October 11, 2023
And then Oklahoma State tweeted this.
October 11, 2023
Boynton said it best at Big 12 media days last year. The Cowboys may be the last basketball team to ever receive a postseason ban. I think in the long run he might be wrong about that, but in the short term, the NCAA appears to have no appetite to ban anyone from the postseason.
Stop Rewarding Self-Punishment
Last year Kansas suspended both Self and Townsend for the first four games of the 2022-23 season. It was an absurd punishment at the time, given that the program is facing five Level 1 violations. But Kansas played it right.
As many other schools have learned in the past, if you punish your people just a little bit in these situations it apparently goes a long way with the NCAA.
Slapping your own wrist shouldn't be a punishment. If you really are going to be a governing body, then govern. Or just go away.
Another NCAA Failure
The IARP was supposed to streamline this process. It was supposed to help get cases like this through the system quicker so that punishments and or resolutions could happen faster.
It was a complete failure, whether you agree with the rulings or not. Six years to determine Kansas' fate in this was just patently absurd. Oklahoma State had to wait nearly five years.
It was a completely ineffective board and the only good thing about this ruling is that the IARP is done. No more. Kansas was the last school it had to "punish."
Now we can move on to the next dumb thing the NCAA does, which should be any second now.
You can find Matthew Postins on Twitter @PostinsPostcard.