Big 12 News
Top 25 Returning Big 12 Baseball Players, No. 12: Colin Simpson, Oklahoma State C/OF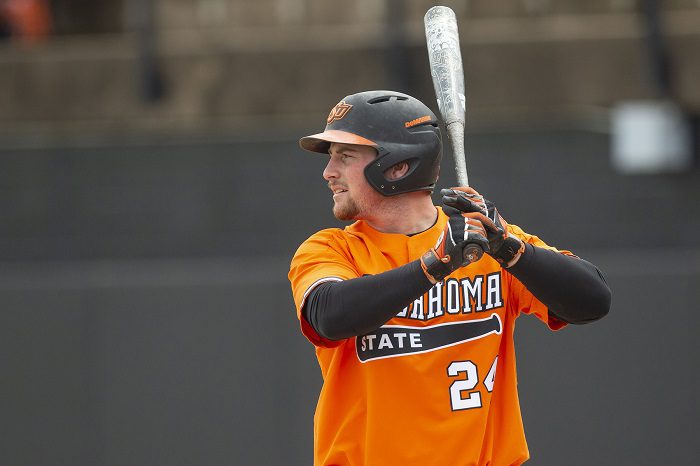 He is a slugger in every sense of the word. In 2018, Simpson belted the most home runs by far on a power hitting Oklahoma State team. His 18 home runs were the second most in the league, only behind Kody Clemens.
Simpson also had the most strikeouts on the Oklahoma State roster. A pure slugger is someone who hits a lot of home runs, but also strikes out a lot. When it comes to two strike counts, you'll rarely see these hitters choke up on the bat. They're looking for bombs, not base hits.
While he struck out more than once per game, he also brought in runs more than once per conference game. In 24 conference games, Simpson collected 25 rbis. Being the slugger that he is, he belted 10 home runs in conference play. That means 10 of his 25 rbis featured himself crossing home plate on his own swing.
Although Simpson is a pure slugger at the dish, he can also run. Simpson stole eight bases throughout the regular season.
The 5-foot-9, 228 pounder has improved his standing among the Big 12 each season. After riding the pine in 2016, he was an All-Big 12 Honorable Mention his sophomore season. Last year, he was named to the All-Big 12 Second Team as a catcher. Look for him to aim towards the first team this season as he improves his draft stock.
For the rest of our Top 25:
No. 25: Baylor 1B/C Shea Langeliers
No. 24: WVU Utility Tyler Doanes
No. 23: WVU IF Marques Inman
No. 22: Oklahoma State OF Trevor Boone
No. 21: Baylor OF Richard Cunningham
No. 20: Kansas State OF Will Brennan
No. 19: West Virginia OF Darius Hill
No. 18: TCU LHP Nick Lodolo
No. 17: OU RPH Nathan Wiles
No. 16: Oklahoma State OF Carson McCusker
No. 15: TCU OF Josh Watson
No. 14: Baylor IF Nick Loftin
No. 13: Texas Tech utility Brian Klein
**Sign up here for our HCS weekly e-mails for a chance to win FREE Heartland College Sports and Big 12 team gear!!**