Big 12 News
Brett Yormark to 'Aggressively Pursue' Big 12 Expansion: Report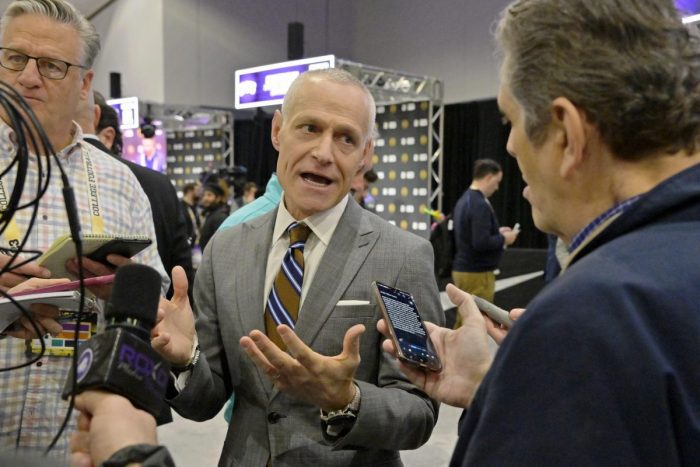 Big 12 commissioner Brett Yormark will reportedly "aggressively pursue" expansion, now that the Texas-Oklahoma departure issue is settled.
Sports Illustrated's Ross Dellenger reported that intention via tweet.
Yormark's desire to expand the conference isn't a secret. In October he told reporters that he was open to expansion if it was right for the conference, citing a national strategy. He has also made it clear that he wants the Big 12 to have a foothold in the Pacific time zone. With BYU's membership, the league has its first school in the Mountain time zone.
The Big 12 is reportedly interested in several Pac-12 schools, most specifically the four corner schools — Colorado, Utah, Arizona and Arizona State. There have been varying reports of interest by those schools. The Big 12 has also had meetings with Gonzaga about adding it as a basketball-only member and league presidents and athletic directors heard a presentation on the Bulldogs last week.
The Pac-12 lost USC and UCLA to the Big Ten in the summer. Since then, the Pac-12 has gone two rounds of exclusive negotiations with ESPN and Fox on a new TV deal with no agreement. Now the Pac-12 is shopping its TV rights.
Earlier this week The Athletic reported that Pac-12 commissioner George Kliavkoff had "over-promised" on a television contract and that the Big 12's new deal — which starts in 2025-26 — had undercut them. Kliavkoff had reportedly told his member schools he could get them a deal north of $40 million per year, even after losing USC and UCLA.
The Big 12 schools will get a $31.7 million distribution from its new television deal with ESPN and Fox.
The Pac-12 is reportedly seeking a deal that could see a significant amount of its inventory end up on a streaming service like Apple+ or Amazon Prime.
Kliavkoff was in Dallas on Wednesday visiting SMU, one of two schools the Pac-12 may be interested in for expansion, the other being San Diego State.
You can find Matthew Postins on Twitter @PostinsPostcard