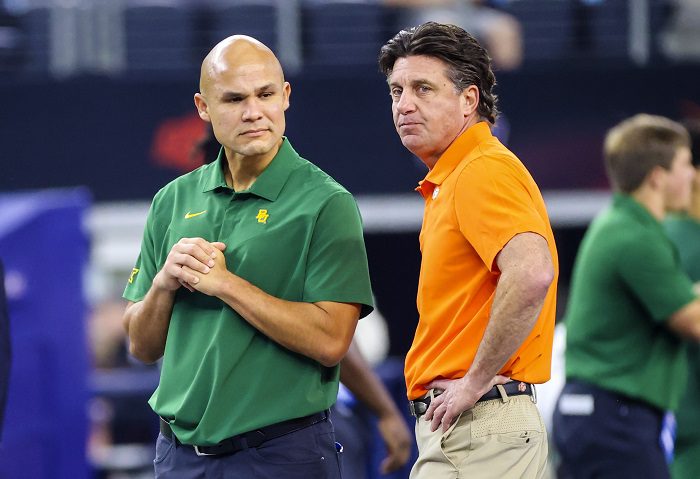 It's here! The 2022 college football season gets underway later this week with the Big 12 Conference playing games on Thursday, Friday and Saturday. From the Backyard Brawl to a Big 12 vs. Pac-12 (TCU vs. Colorado) match up to many more, it's time to get back to playing football.
As we have done for several years running, it's time to bring back our Big 12 football Power Rankings. Obviously, no games have been played yet, so take this as my preseason rankings as we list the Big 12 teams from No. 1 to No. 10. Let the games begin!
1. Baylor Bears
The Bears are the defending Big 12 champs and actually upgraded at quarterback from Gerry Bohanon to Blake Shapen. For a game won in the trenches, Baylor has the best offensive line-defensive line combo in the Big 12 heading into the season. You may have some questions at the skill positions, but Baylor has a tradition of churning those guys out, whether we know who they are before the season or not. Dave Aranda has the chance to take Baylor to consistent levels beyond where Art Briles once did.
2. Oklahoma Sooners
It's crazy to think that Brent Venables has been in Norman for nearly nine months as the head coach and has yet to coach a game. That finally ends this week. There are lots of new faces and new pieces in Norman. The talent isn't questioned, but getting it to mesh can be. Dillon Gabriel steps up from the AAC to Big 12. How will he handle it? The good news is he has great playmakers around him and an OC in Jeff Lebby he knows from their time at UCF. Now you get Brent Venables taking over the defense? The program will be just fine, but Baylor gets the edge for No. 1.
3. Oklahoma State Cowboys
The Cowboys were a half-yard away from a Big 12 Championship and a (likely) trip to the College Football Playoff last season. How about 2022 for an encore? QB Spencer Sanders is the most experienced player in the league at his position, which is worth something, but is he still prone to the big mistake? Jim Knowles left OSU for the other OSU (Ohio State), but Derek Mason takes over a defense that lost some key pieces, but returns a great defensive line.
4. Texas Longhorns
I know, you don't want to hear about all the talent Texas has. I understand, as we play this game every single year. But with that being said, have you seen how much talent Texas has this season? Quinn Ewers, the former No. 1 prospect in the country, got the nod at QB over Hudson Card, and takes over the reins of an offense with Bijan Robinson, Xavier Worthy and others who will likely be playing on Sundays. Defensively, toughness is sorely needed this season, but if it all clicks, this team will play for a Big 12 title.
5. K-State Wildcats
Kansas State can also find itself higher up this season throughout the season. Much of it will depend on Adrian Martinez, the quarterback who transferred in from Nebraska this offseason. How does he mesh with new OC Collin Klein and is he able to cut down on his turnovers from his time in Lincoln? One person there will be no questions about is Deuce Vaughn, arguably the most explosive player in the league. Defensive, the front seven is led by star pass rusher Felix Anudike-Uzomah, however the questions are in the secondary. If K-State solidifies that unit, this team can challenge for the top two spots in the league.
6. Iowa State Cyclones
The casual college football fan knows all the veteran pieces gone from Iowa State. Brock Purdy, Breece Hall, Mike Rose, etc. have moved on, but too many are expecting Iowa State to return back to the bad old days. Matt Campbell has spent over half a decade building depth and talent across the roster and now those new faces get their chance, led by QB Hunter Dekkers. Will McDonald and O'Rien Vance lead a defense that turns over at several positions, but that side of the ball also isn't lacking talent. Iowa State should expect seven wins each season under Matt Campbell, and if it all clicks, this team can tack on one or two more than that.
7. West Virginia Mountaineers
No one needs to exceed expectations like Neal Brown, who finds himself with the hottest seat in the Big 12 Conference heading into the season, and rightfully so after going 17-18 the last three seasons. He's got his most-talented QB yet in J.T. Daniels, however staying healthy will be key. Graham Harrell takes over the offense which returns its entire starting line, always a key to get things started on the right track. Meantime, the defense also has plenty of returning talent on the line, led by Dante Stills, and while the secondary is all new faces, there is experience there. Neal Brown deserves a break or two this season, and if he gets it, WVU will go bowling and then some.
8. TCU Horned Frogs
There are questions at nearly every position in Fort Worth under new head coach Sonny Dykes, who moves across the Metroplex from SMU. The most notable: TCU has a new defensive leader for the first time this century as DC Joe Gillespie implements his 3-3-5 defense, which replaces the 4-2-5 Gary Patterson had run since 1998. It's not clear if he has the horses he needs, but there are some nice returning players, led by cornerback Tre'Vius Hodges-Tomlinson, who was a First-Team All-Big 12 player last season. Oh, and when we talk about questions, how about QB? Chandler Morris? Max Duggan? We're still waiting.
9. Texas Tech Red Raiders
Joey McGuire has the rebuild on his hands for Texas Tech, but he has some talent to work with, led by his recently-named starting QB Tyler Shough, combined with new OC Zach Kittley, who is considered one of the best, young offensive minds in the sport. SaRodorick Thompson and Tahj Brooks make for one of the better 1-2 punches at running back in the Big 12. The offensive lines needs to gel fast and the defense is full of question marks. McGuire has his hands full, but I have little doubt he's the man for the job.
10. Kansas Jayhawks
This used to be the obvious team at No. 10 for every week of the football season. However, the times are changing in Lawrence, albeit slowly. However the program is trending in the right direction in the way that it hasn't in a well over a decade. Kudos to Lance Leipold. I still expect Kansas to spend most of the season at no. 10, but I expect a pop here and there throughout the season.