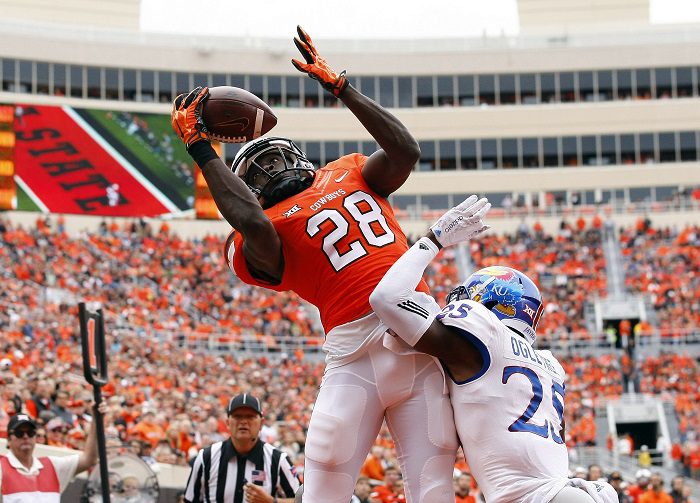 Mike Gundy has been known for two things since becoming head coach of Oklahoma State in 2005: being a man and getting five-star production out of three-star recruits. Players such as Justin Blackmon, James Washington and Emmanuel Ogbah all came out of high school as three-star players and left Oklahoma State holding records and national awards.
Today, I'll examine one of the latest three-stars to join Coach Gundy's squad and a player with a ton of potential, that being wide receiver Bryson Green.
Green is a 6-foot, 200-pound wideout from Allen, Texas. Bryson committed to play at Oklahoma State last June along with his twin brother, Blaine. Both brothers are considered three-star receivers according to 247Sports, with Bryson rated slightly higher, although some outlets have Bryson rated as a four-star.
Bryson ended his high school career this past fall with career stats of 65 catches, 966 yards and 11 touchdowns while leading Allen to an undefeated regular season and eventual loss in the regional round of the Class 6A Division 1State Playoffs to Trinity.
For those who don't follow Texas high school football, the Allen Eagles are one of the most decorated high school football programs in the country. Just a couple notable alumni include Kyler Murray, Jonathan Williams, Cedric Ogbuehi, Greg Little and Jalen Guyton, all of whom are currently playing in the NFL. For Green to be making an impact for this Texas football powerhouse is nothing to scoff at. This kid can ball.
Recruiting analyst Gabe Brooks gave a scouting report of Green on 247Sports, where he said he thinks Bryson could become a perennial Power 5 starting receiver.
"Solidly built outside receiver with virtually college-ready size. Owns the requisite height with good bulk and still can add more weight thanks to frame. Willing and capable perimeter blocker in the run game… Legitimate Power 5-caliber receiver who could become multi-year starter in college."
The last time a pair of twins came through Oklahoma State, one of them ended up being pretty good (hello, Tylan Wallace). Wallace just wrapped up his Oklahoma State career with over 200 catches for well over 3,000 career yards. And those numbers would have been even higher if not for injuries the last 15 months of his career.
Perhaps if both Bryson and Blaine can stay healthy, Gundy and his offensive coaching staff can reap the benefits of another set of Texas twins, and the continued success of OSU wide receivers won't miss a beat. Oklahoma State fans have come to expect it over the past decade.
**Want to win a $20 gift card?  Go sign up here and join our conversation! The best poster each week wins a gift card to your favorite establishment!**