featured
Oklahoma, Texas' Approach to Schedule Release Tells Story of Strained Relationship with Big 12 Conference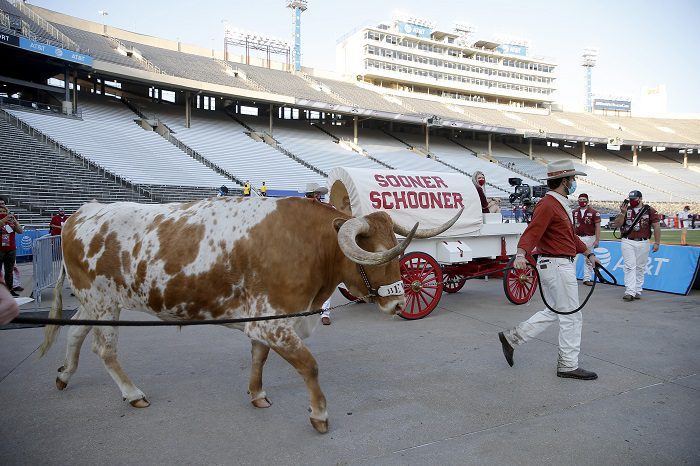 The Big 12 finally released its 2023 football schedule on Tuesday. The league said the end of January and they meant it. And there was much rejoicing.
Each of the league's teams made it the lead story on its website. Each of the league's teams dropped something on social media. We're big fans of what Kansas State did.
My job on Tuesday was to start collecting the schedules to post on the site. Eventually, we'll have team-by-team schedules that will be updated when game times change, TV networks are announced and results come in.
I went in alphabetical order. When I got to Oklahoma I discovered something curious. No lead story. No schedule graphic. I went to the schedule page. No schedule. In fact, there is no 2023 schedule listed. Its drop-down goes from 2022 to 2024.
Eventually, I got to Texas. Same thing. No lead story. No schedule.
Then I found this, which we wrote about on Tuesday night.
So, I must ask — are these the same schools that are committed to being good partners to the league until they leave for the SEC, as commissioner Brett Yormark said in October?
No, they're not. In fact, it's a level of pettiness that I didn't expect amid the thundersleet I experienced down here in Texas.
While the other 12 schools were trumpeting the new schedule and promoting it to everyone, the Longhorns and the Sooners were busy doing the bare minimum. I mean, the absolute bare minimum. They retweeted something from the Big 12 account. That's all.
This may seem like a small thing. But every school trumpets the new schedule when it comes out. They do stories, graphics, and videos. I know several people in that world. They've probably had the schedule for a few days as they work on those assets. It takes time. They're really good at their jobs, too. They love stuff like this.
Oklahoma and Texas have great social media staffs. Their work speaks for itself. They were obviously told to stand down.
As I said, petty. This scheduling issue dragged on for two months in part because in December the two schools went to Yormark with a desire to negotiate an early out. To this point that has gotten nowhere.
Would it be too "elementary school" for me to point out that two years ago Oklahoma and Texas started this by agreeing to join the SEC in 2025? Everything the league's remaining members have done since then has been designed to create a pathway for the league to survive and thrive without them.
I guess I shouldn't point out the football television ratings the 'Hateful Eight' put up this year?
Yes, the Longhorns and Sooners seem to still want special treatment, the same special treatment they've received for more than a quarter-century.
Remember when the Big 12 wanted to expand for 2023? Well, Oklahoma and Texas were reportedly OK with it … as long as they were no longer in the league. When the league voted to take in the four new members, Oklahoma and Texas abstained. By the way, neither was on board with expansion several years ago, either.
Remember when we thought the two schools might leave really early, possibly two years early? Well, Fox reportedly thwarted that.
Remember when everyone thought there was no way the Big 12 could make more in revenue without Texas and Oklahoma? Well, the new members will make more than $3 million per team per year in the new TV deal. No, it's not SEC money. But it's still a win for the league.
Remember when you saw reports that Oklahoma and Texas didn't want to play the four new teams in 2023 (CBS Sports' Dennis Dodd had that note)? Well, Texas is playing two of them and Oklahoma will have to play three of the four.
You've got a different kind of ego when you think you can still drive the agenda of the conference you've kicked in the butt.
Meanwhile, the 'Hateful Eight' agreed to lope $16 million off their revenue share for the next two seasons to help out the four new members and help them bridge the gap to the new television deal.
That, in case you're wondering, is being a good partner.
If anything, Tuesday's events lends support to my theory from a couple of weeks ago that the two schools were trying to execute an exit two years early, as opposed to one year early. I wrote about what I thought it would take for that to happen. Maybe they were hoping the Big 12 would do them a solid and just let them play the 'Hateful Eight' and be done with it. No such luck.
Now, you'll hear a lot about negotiations between Oklahoma, Texas, and the Big 12 for the two teams to leave the league one year early, as in after the 2023-24 athletic year. At this point, I think most people would be OK with that. But Yormark and his staff should extract every pound of flesh they can at this point.
If OU and Texas are gonna open the door to pettiness, then embrace it and get every buyout penny you can get.
Once Oklahoma and Texas are in the SEC, my guess is that Sooners' athletic director Joe Castiglione and Longhorns athletic director Chris Del Conte will 'spill the tea,' so to speak, and tell us what really happened. They'll spin their narrative and talk about how happy they are to be away from that 'small-time conference.'
You mean that 'small-time conference' you helped start 27 years ago, that you nearly destroyed two years ago thanks to your own avarice and are now stomping your feet about not getting your way?
The only thing small-time on Tuesday was how Oklahoma and Texas treated the schedule drop, revealing themselves as incapable of handling the simplest task that would promote the conference of which they are currently a member.
Or, maybe I'm wrong. Maybe this is just about the fact that TCU did what they couldn't.
Nah, they couldn't be that petty, right?
You can find Matthew Postins on Twitter @PostinsPostcard